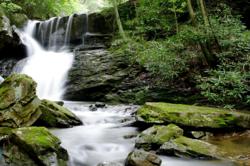 Charleston, WV (PRWEB) May 29, 2008
Thundering through a remote forest ravine, Keeny's Creek in Fayette County West Virginia is a little known paradise tucked back in a sleepy little country community. As the creek roars down the steep descent into the New River Gorge; several beautiful waterfalls are formed from 2 feet high to over 50 feet high. Abundant wildlife and nature flourishes in this lush forest area. Otter's, Bear and Whitetail deer populate the dense forest that borders the creek as it crashes it's way through to the New River Gorge below.
The ForestWander Nature Photography team has hiked this rugged and dangerous terrain to capture the waterfalls in never before seen detail. The http://www.ForestWaterfalls.com and http://www.forestwander.com/nature-screensavers that ForestWander release to the public are unique in perspective and give professional artistic clarity. These never before seen pictures of rugged Keeny's Creek captivate nature enthusiast's imagination and wonder of all ages.
For the past several years ForestWander Nature photography has hiked the mountains and forests of West Virginia to capture the beauty of the "Mountain State". Termed "Almost Heaven" ForestWander.com brings this label to life for the wonders throughout the state.
To obtain free samples of rugged Keeny's Creek and other magnificent natural wonders in West Virginia visit http://www.ForestWander.com.
ForestWander also hosts a social nature community network at http://www.ForestWander.com where you may upload and share your own nature adventures with others in the nature community.
If you would like to contact ForestWander Nature Photography you may call 304-776-2477