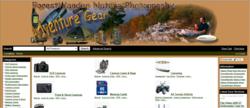 ForestWander.com is positioned to compete with larger online sporting good stores
Charleston, WV (PRWEB) December 17, 2009
Expanding their operations to fill a unique niche for outdoor nature photography adventure enthusiasts. Store.ForestWander.Com is providing their website visitors everything from SLR cameras, and underwater point shoot video cameras, to wilderness adventure survival, and floral photography guides.
With the vast number of affiliates that ForestWander has partnered; CEO, Webmaster, and Nature Photographer Troy Lilly says, "ForestWander.com is positioned to compete with larger online sporting good stores." Lilly says that they receive over 100,000 unique visitors each month, and statistically at least 1 - 5 percent of these are ready to purchase something related to nature photography.
ForestWander claims to target a niche that is growing in popularity with hikers, campers and other outdoor enthusiasts. Troy Lilly who is an avid hiker and nature photography explorer, believes that many who are already devoted to general nature activities, are becoming amateur to semi-professional photographers as a result of the low cost of quality digital camera equipment.
The Internet has quickly become a massive multimedia outlet for video and high resolution digital photography. The http://www.ForestWander.com team hikes deep into national parks and forests to gather their nature photographs, which Troy states "our hikes and adventures have not been for the unprepared, weak and faint hearted." This grand opening of the ForestWander Extreme Nature Photography Adventure Gear Store is seeking to help nature explorers and adventurers be prepared to not only survive their expedition, but to document it in high resolution digital detail.
###