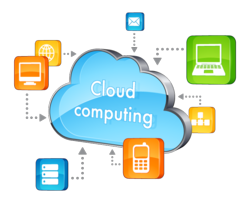 Our Silverlining IaaS cloud hosting solution was designed to be easily scaled up or down to provide our customers transparent use of technology regardless of operating systems
Denver, Colorado (PRWEB) May 31, 2013
FORETHOUGHT.net announces today its Silverlining 2.0 upgrade to its cloud IaaS hosted services including dramatically improved performance and scalability.
With the Silverlining 2.0 portal powered by the full VMware platform and support, customers can customize each virtual machine to their specific needs with total control, often on the fly with no service disruption. The SilverLining IaaS solution minimizes downtime due to poor security of 'shared' web hosting, crashes and hacked servers. All operating systems are supported such as Linux, Windows and DOS.
"Our Silverlining IaaS cloud hosting solution was designed to be easily scaled up or down to provide our customers transparent use of technology regardless of operating systems," said Jawaid Bazyar, FORETHOUGHT.net President. "Our promise to our customers is simple: to provide them well designed technology solutions, a professional response system and personalized service. Our latest upgrade to our IaaS cloud hosting solution gives them just that and lets them be in control of their infrastructure with ease and access to their data and voice solutions anywhere, anytime."
Backups and restores are nearly instantaneous over the FORETHOUGHT.net 10-gigabit infrastructure. Customers can take a snapshot before an upgrade and if something goes wrong, roll back with one click. In case of emergency, FORETHOUGHT.net clients can use one of FORETHOUGHT.net Disaster Recovery Centers throughout Denver which ensures that their data is safe and secure. This allows quick recovery of all data in minutes.
FORETHOUGHT.net customers can typically save year over year, reduce latency issues and now receive 10M fiber broadband as part of all IaaS and colocation packages. FORETHOUGHT.net offers white label and resale opportunities.
FORETHOUGHT.net provides some of the lowest latency (less than 5 milliseconds) available in the Colorado market because of its fiber backbone and extensive peering with other ISP providers, and now includes 10M internet connectivity as standard in any cloud or colocation package.
To learn more about what to expect from your colocation provider, check out our Top 10 Items to Expect From Your Colocation Provider list. To learn more about the FORETHOUGHT.net IaaS offering, check out FORETHOUGHT.net.
###
About FORETHOUGHT.net
Since 1995, FORETHOUGHT.net is a leading locally owned and operated IT and communications service provider, offering a portfolio of enterprise-level cloud-computing, Internet, voice and data solutions for Colorado businesses. Its state-of-the-art data center provides high–density cloud hosting, N+1 redundant CRAC, true A/B power & redundant A/B UPS systems, cold aisle/hot aisle architecture, 24/7 secure access at all times (computer-controlled magnetic card-key high-security system). All of this comes with FORETHOUGHT.net competitive pricing customized to the needs of each client so customers only pay for what they use.
The Denver Business Journal ranked FORETHOUGHT.net as a Top 15 Telecommunications Company and a Top 15 Internet Service Provider. ColoradoBIZ Magazine listed it as one of Colorado's Top 250 Private Companies. BBB.org accredited A+ member.
Patricia Kelly
FORETHOUGHT.net
+1-303-815-1823
Patricia(dot)Kelly(at)FORETHOUGHT(dot)net