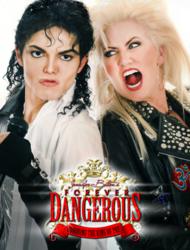 ...in this audience-centric era of music projects, we decided to reach out directly to the fans
Denver, CO (PRWEB) January 22, 2013
Forever Dangerous, a world-class, live stage production that pays homage to the legacy of Michael Jackson and features Jackson's iconic lead guitarist, Jennifer Batten, has announced the launch of a crowd-funding initiative on Kickstarter.com and ForeverDangerous.com to raise funds for lighting, video and special effects in an effort to re-create some of the most memorable concert moments in live performance history.
Drawing from personal experiences during her ten years as guitarist for Jackson's "Bad," "Dangerous" and "HIStory" world tours, Batten and her partners hope to bring the world the greatest live fantasy show in history. "I want to give younger folks who never got a chance to experience a Michael Jackson show, as well as long-time fans, the chance to feel the magic again or for the first time, through my eyes and experiences," Batten said.
Batten's partners are producer Chris Fischer of Hi-Phi Entertainment and top Jackson impersonator,Carlo Riley. The trio initially considered pursuing traditional entertainment industry backing before realizing that there would be too many strings attached that could compromise the creative control and overall integrity of the show. "Instead, in this new audience-centric era of music projects, we decided to reach out directly to the millions of fans who love this music and have them participate in the process of bringing it to the world," Batten said. "Quite simply, this is a unique opportunity where the fans will be the ones who make the difference."
Since Jackson's passing in 2009, Batten has turned down numerous offers from various tributes all over the world. "I felt they lacked quality and I realized we could create something really exceptional to properly honor Michael's incredible contributions. When I discovered Carlo, his remarkable likeness and dance skills stirred up those extraordinary memories from the world tours," Batten said.
World renowned lighting and production designer Marc Brickman recently joined the Forever Dangerous team. Brickman's experience includes work with Pink Floyd, David Gilmour, Roger Waters, Paul McCartney, Bruce Springsteen, Black-Eyed Peas, Blue Man Group, Cirque du Soleil, Nine Inch Nails, No Doubt,1992 Summer Olympics and 1998 Winter Olympics as well as television and major motion picture credits. "To pull off a production of the quality and professionalism we're seeking, we needed to bring in someone of Marc's caliber. He's a certified legend in the lighting and design world," said Hi-Phi's Fischer.
"The sky is the limit on production value." Fischer said. "With Marc Brickman involved, the more we raise, the more spectacular the shows will be. And, we've put together some exceptional and unique rewards for fans and backers at all pledge levels from limited edition pins and merchandise to signed guitars and backstage, all-access 'rock star treatment' packages."
"My memories are personal and professional," Batten added. "Memories of magical moments in the history of music that will never be repeated, of collaboration with a true musical legend and the little moments no one else saw. These are memories I want to share with the world through this production."
About Hi-Phi Entertainment, LLC
Hi-Phi Entertainment, LLC is a Boulder, Colorado based company that specializes in live entertainment and event production, management and booking.