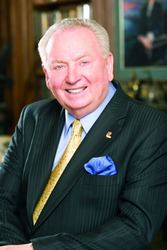 an individual whose personal efforts have contributed substantially to enhancing outdoor experiences across America.
Scottsdale, AZ (Vocus) October 28, 2009
One of the highest honors in the outdoor world, the most prestigious accolade in the recreation community, was given to an Arizonan this year --- a first among the 20 previous recipients of the Sheldon Coleman Great Outdoors Award. Rex Maughan, Chairman of the Scottsdale-based Forever Resorts and Forever Living Products International, received the 2009 annual award presented to "an individual whose personal efforts have contributed substantially to enhancing outdoor experiences across America."
The American Recreation Coalition called Mr. Maughan, "A visionary leader whose companies in the recreation and concession industries lead the way for others and show how business should be done to enhance recreation experiences for generations to come."
The nationally-known Arizona entrepreneur joins an elite list of previous winners including former President George H.W. Bush; former Interior Secretary Dirk Kempthorne; Gil Grosvenor, Chairman of the National Geographic Society and a number of Senators and Representatives.
Maughan has a lengthy business history of fostering responsible development and leadership involving environmental initiatives and corporate responsibility. President Reagan appointed him to the President's Commission on Americans Outdoors to help define public and private partnerships. He has served as Chairman of the National Park Hospitality Association representing 132 national parks. And for his role in producing the Outdoor Recreation Village during Super Bowl XLII in Glendale, he received a Get Outdoors USA! National Leadership Award.
Putting projects with promises, in 2002, every Forever Resort property in the United States became a part of an environmental management system certified to ISO 14001 called Forever Earth, formally acknowledging a corporate commitment to be honorable stewards of the environment.
"Each of us doing what we can to preserve nature's beauty for future generations to enjoy can be simple," stated Maughan. Since 1981, Forever Resorts has grown to include more than 75 locations world wide providing houseboat vacations, lodging, restaurants, retail, marinas, watercraft rentals, river rafting, mobile catering and conference services for visitors to national and state parks, regional recreation areas and destinations throughout the U.S., Hungary and South Africa.
In Arizona, Forever Resorts operates Mormon Lake Lodge, Temple Bar Marina on Lake Mead, Lake Powell Houseboat Rentals at Antelope Point Marina and Grand Canyon Lodge North Rim. Recently they were selected as the new concessioner at Bryce Canyon Lodge in Bryce Canyon National Park, Utah starting January 1, 2010. Details can be found at http://www.ForeverResorts.com.
###