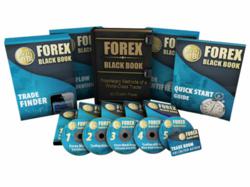 Forex Black Book by Dustin Pass is a comprehensive training guide that now provides the information needed to professionally take advantage of foreign exchange trading.
New York, NY (PRWEB) February 13, 2013
Consisting of five training modules plus bonus materials, "Forex Black Book" by Dustin Pass is written for people struggling financially and not able to consistently earn income with their trading. It is also designed to instill the knowledge and skills for traders to work at a professional level, while having the intuition for jumping on the right trade at the right time.
The training book is organized into five modules. The first, Module 1 – Forex Market Introduction, starts with the basics and explains the author's trading strategy, with terms, charts, and other basic concepts covered. Module 2 – Trading Analysis supports the author's goal of making readers profitable and to provide an educational tool. The proper ways to identify support and resistance, identify trend lines, and to analyze the market are incorporated into this segment, with the intention of learning how to understand the market instead of just apply knowledge of indicators.
Module 3 – Forex Black Book Software covers a custom application that provides insight into the direction of any trade, entry signals, and targets, so one knows when to exit a trade. Knowing the software is one thing; being able to make informed decisions using all the data is a whole different game. Further insight into trade execution is provided in Module 4 – Trading with the Black Book Indicator. The Forex Black Book helps users execute trades while saving time and effort.
In Module 5 – Personal Trading Plan, beginners are presented with an outline of how to make their personal trading plan. The goal here is to start with a strategy. These are not all, however. The offering also comes with bonus features such as three months of bank flow data, providing a view into the trading moves major banks are planning. In addition, Trade Finder software is included with the package, a program that scans the market and alerts users of key trades.
A daily trade analysis is the core of the final bonus, with analytics provided by trainer Ross Mullins. Three months of free access are also provided for this feature. Put together, the free trade analysis totals a value of $1107.
The entire course comes with a money back guarantee; if one is not satisfied with it within 30 days, a full refund is provided. The Forex Black Book is available now to the forex trading market.
For immediate access to the program click here
To see a more in depth review on Forex Black Book please visit http://theforexblackbook.org