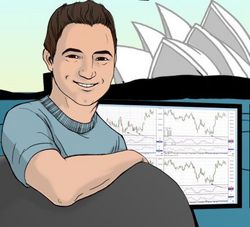 forex traders need to learn how to "master" one price action setup at a time; this creates discipline and confidence in traders, both of which are necessary for success in the financial markets
(PRWEB) July 25, 2010
Nial Fuller educates traders on how to use the art and skill of price action analysis to simplify and efficiently trade the forex currency market. According to Mr. Fuller, price action analysis is the interpretation and implementation of various price patterns that form in the context of daily price movement in financial markets. The approach that Nial takes is that traders need to learn how to "master" one price action setup at a time; this creates discipline and confidence in traders, both of which are necessary for success in the financial markets according to Mr. Fuller.
Attempting to simplify the world of personal financial management might seem counter-productive to some people at first glance. However, Nial Fuller is proving to the world that it is indeed possible to effectively simplify trading and investment strategies through a comprehensive educational system geared towards using price action analysis to trade the forex market, delivered via the internet in a concise package. The price action strategies Mr. Fuller teaches can be used for any financial market; however Nial has chose the backdrop of the foreign currency market to illustrate his concepts because of its thick market liquidity, low start-up costs and ease of access for interested participants.
When asked to comment on what sparked his interest in teaching other traders how to make their trading decisions more effective, Nial remarked, "I simply knew from my own experiences in route to becoming a professional trader that there was a vast amount of irrelevant, ineffective, and overly-complicated information floating around the internet regarding trading strategies. So, after achieving a high level of success in the markets, I decided to take some of my new-found extra time and share my methods with struggling traders and investors because I know exactly how it feels to be in their shoes wanting to learn forex trading, and it isn't fun ". Mr. Fuller went on to discuss how there is a lack of effective educational material on the internet regarding simple yet effective trading strategies, and his services are filling this niche for the many traders out there who are frustrated with their current trading strategies or who are new to the trading world and looking for something solid to work off of.
In sharp contrast to the many automated forex trading programs for sale on the internet today, Nial is providing traders with a method that he says will allow them to develop a unique perspective on price movement which helps them make their own informed trading decisions. One of the primary lessons that Nial tries to get across to his students is the futility of following a rigid rule-based trading method. Mr. Fuller's price action trading methods teach traders how to think for themselves and use discretion in navigating today's volatile forex financial markets.
For additional information on forex or price action trading strategies contact Nial Fuller or visit: http://www.LearnToTradeTheMarket.com
Nial Fuller is a price action forex trading mentor with a decade of profitable trading under his belt. He has worked for major Australian finance firms and managed large funds for private clients; he is the founder and author behind the educational material at his website.
Contact:
Nial Fuller, owner and founder
http://www.LearnToTradeTheMarket.com
Mobile: +61401840083
###