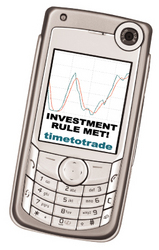 Brighton, UK (PRWEB) February 9, 2009
timetotrade has launched "Forex Alerts", an innovative Technical Analysis Alerting tool for Forex traders. The new Forex Alerting tool enables currency traders to set up their own customised price and Technical Indicator Alerts against all the major currency pairs. As soon as alert conditions are triggered an alert message is sent to their mobile phone, email, or PDA - so there is no need to get caught out by the market volatility again. timetotrade can be accessed from any web browser or web enabled mobile device.
Setting up Forex Alerts is simple with timetotrade's user friendly and intuitive "Point-and-Click" system. Unlike other alerting systems, there isn't the pain of learning a difficult proprietary programming language, or writing complex macros. The user just clicks a button, enters their parameters and the alert is created. Simple. Investors can set up fully customised rule-based alerts to complement or enhance existing investment strategies. They can create single alerts with just one trigger condition, eg they could set up an alert that will notify the investor when the moving average crosses price; or can just as easily build compound alerts with multiple trigger conditions, such as RSI falling below 30, followed by a Stochastic break-out and MACD crossover.
The first release of timetotrade's Forex Alert tool includes support for:

All the popular Technical Analysis Indicators: Stochastic, RSI, Bollinger Bands, MACD, Moving Averages and Exponential Moving Average
Multiple condition triggers: positive / negative cross-over; rising / falling threshold; break-out / pull-back triggers
Customisable indicator intervals, periods and parameters for different trading strategies
Instant alerts to email, mobile phone SMS, or instant messenger
All the major currency pairs: EURUSD, USDJPY, USDCHF, GBPUSD, USDCHF, AUDUSD, USDCAD and more…
Dary McGovern, Managing Director of timetotrade commented "Most investors simply don't have time to sit and watch FX screens all day. The timetotrade Forex Alert technology allows investors to get on with their lives - take that holiday, play that game of golf or go to their child's sports day, safe in the knowledge that they'll be notified the instant their investment conditions are met".
Kevin Brown, a timetotrade user shared his results after testing the new Forex Alerts tool, "The results from the first day using timetotrade alerts for my buy and sell settings were as follows:
Sell USDJPY Gain 6 Points
Buy EURJPY Loss 35 Points
Buy GBPJPY Loss 112 Points
Buy USDJPY Loss 97 Points
Sell GBPCHF Loss 34 Points
Sell EURJPY Gain 311 Points
Sell GBPJPY Gain 190 Points
Buy GBPUSD Gain 77 Points
Buy GBPCHF Gain 216 Points
Overall up 656 Points on the day which is a very promising start!"
The Forex Alerting tool can be found at timetotrade
Further Information
ABOUT FOREX
The Foreign Exchange market, also known as "Forex", "FX", "Spot FX" or just "Spot" is the oldest, largest and most liquid financial market in the world, tracing its history back centuries to Babylonian times. While the global financial markets were collapsing in 2008, the FX market experienced tremendous growth, reaching more than 1.78 million transactions per day - an average daily trade volume of more than $4trillion. That's three times the stocks and futures markets combined. With so many investors and so much money changing hands each day, it is the perfect market for traders who use technical analysis tools. Forex trading offers investors an excellent way to diversify their portfolios, lower volatility and reduce market risk, and being a Global market it is possible to trade Forex 24 hours a day.
ABOUT TECHNICAL ANALYSIS
Technical analysis is the statistical study of a security's price movement through the use of charts. Investors look for patterns on charts to help determine a security's future performance and exploit this information to make money whilst avoiding losses. Technical analysis has become increasingly popular over the past several years, as more and more people believe that the historical performance of foreign exchange, stocks or futures is a strong indication of future performance; therefore becoming a self fulfilling prophecy. Forex is an attractive asset class for followers of Technical Analysis as its large trade volume and variety of participants make it ideal for technical trading. Technical traders believe all the economic and political factors that influence price have already been factored into the exchange rate by the market, and they can focus on following trends and the flow of capital instead.
ABOUT SENSATUS
Sensatus is the financial technology company behind the timetotrade.eu website - an online portfolio management, capital gains tax and technical analysis alerting tool for private stock market investors and investment clubs.
# # #