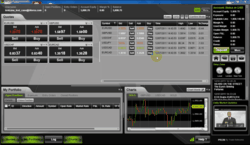 Our goal was to make the withdrawal processes faster and less tiresome for traders
(PRWEB) November 30, 2011
Withdrawing funds from a bforex account just became a whole lot easier. Traders will no longer experience the hassle and inconvenience of contacting a customer service representative over the phone in order to make a withdrawal. Instead, they can exchange their phone for a mouse and make withdrawals quickly and efficiently, with minimal effort.Forex trading just got a whole lot easier.
"Our goal was to make the withdrawal processes faster and less tiresome for traders. Instead of wasting time talking on the phone with a representative, they can concentrate on trading or anything else they want to do. It [automatic withdrawals] really does make the trading experience that much more enjoyable," said Edward Hoffman, Head of Marketing and User Experience.
In addition to faster withdrawals, bforex now accepts deposits via MoneyBookers and CashU. Both of these solutions make the deposit and withdrawal of funds even easier for bforex traders, who can now choose from an impressive list of credit merchants and online solutions that meet their trading requirements.
Phillip Chang, Vice President of Trader Relations expressed his satisfaction, but stressed that this was just the beginning of a brand new trading experience at bforex. "We are excited about the new and improved bforex experience. Our goal is to make bforex a truly unique and wonderful place to trade and we sincerely believe that we have taken the first step in accomplishing such a goal."
About us:
bforex is a world leading foreign exchange broker established on an entrepreneurial vision to provide FX traders with simple and intuitive interaction with the Forex market. We are highly valued by our customers due to our expertise in providing traders with unrivalled execution speed, 24 hour assistance, tight spreads, superior exchange rates, commission free trading and a cutting-edge trading platform.
bforex site: http://www.bforex.com
###