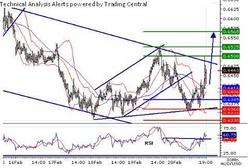 We are one of a few FCMs to offer a 5th decimal price feed. The introduction of an improved price feed with an extra decimal place on all FX quotes allows Alpari (US) to provide retail clients with tighter spreads in the near future, better pricing, execution and liquidity. This new feature is available upon request through the MetaTrader 4 Platform
New York, NY (PRWEB) February 24, 2009
Alpari (US), LLC, a regulated Foreign Exchange company and provider of online Forex trading, announced today the launch of new, value-added research, information and trading services for all Live Account holders. These free services are designed to enable sophisticated traders as well as newcomers to make more informed and responsible investment decisions.
Trading Central
Alpari (US) has collaborated with Trading Central, a leading provider of independent financial research, which provides Live Account holders with free technical analysis alerts and reports from experts on Forex, Equities, Index Futures, Commodities and Bonds. The service includes in-depth articles, trading ideas, web TV and a Daily Technical Levels email with trend alerts and analysis.
Trading Central-powered news alerts are streamed directly to Live Account holders through the MetaTrader 4 platform - currently, a feature exclusively available to Alpari (US) clients. Alpari (US) is the first company in the Forex market to offer this news feed through the MetaTrader 4 platform. This initiative is a direct result of the Alpari Group's dedicated research and commitment to technological advancement.
Alpari (US) Live Account holders have access to 2,000 daily reports with timely market commentary, Forex market news, real-time trading signals and feature interviews with top analysts, economists and corporate executives. Additionally, Trading Central's Second Opinion Reports are available to Alpari (US) Live Account holders from the company's homepage on its web site, http://www.alpari-us.com/en/tradingcentral.
Founded in 1999 with offices in New York, London and Paris, Trading Central provides event-driven fundamental research and action-oriented technical analysis strategies as a reliable source of an expert second opinion and original trade ideas. Its client list includes most of the 50 largest investment banks worldwide as well as asset managers and hedge funds.
"The Alpari Research and Development Team have been working closely with Trading Central to establish innovative, comprehensive technical analysis for our clients. Trading Central's market knowledge and in-depth research certainly makes them uniquely-qualified professionals in their field. We are confident that our customers will benefit from their core business of performance driven financial analysis," stated Olga Rybalkina, Chief Executive Officer of Alpari (US).
"We are proud to work with Alpari as their primary research provider. Choosing Trading Central as a partner shows their determination to be not only a top execution broker, but also a broker that helps add value to their clients' trading activities," said Dr. Alain Pellier, CEO, Trading Central SA.
5th Decimal Feed
Alpari (US) also announced that it is now providing clients with the opportunity to trade with a 5th decimal price feed on Live Accounts. "We are one of a few FCMs to offer a 5th decimal price feed. The introduction of an improved price feed with an extra decimal place on all FX quotes allows Alpari (US) to provide retail clients with tighter spreads in the near future, better pricing, execution and liquidity. This new feature is available upon request through the MetaTrader 4 Platform," added Ms. Rybalkina, Alpari (US) CEO.
Economic Calendar
Recently, Alpari (US) introduced a new email feature for Live Accounts that provides weekly Economic Calendar highlights and directs clients to a calendar hosted on the company website, http://www.alpari-us.com. These email highlight alerts focus on important news in the week ahead concerning the USD, CAD, GBP, AUD, and NZD currency pairs. Ms. Rybalkina commented, "Just in this past week, the Economic Calendar highlighted significant international trade information on Wednesday and important Retail Sales and Jobless Claims reports on Thursday, followed by US Consumer Sentiment numbers on Friday. It is also very important for us as a company to meet our customers' needs and expectations, and we hope our customers will enjoy this added feature of our website."
Record Volume Growth in 2008
Alpari (US), LLC is one of a group of Alpari companies which recently announced record growth in trading volumes and customer accounts in 2008. Daily trading volumes reached a record level of $2.6 billion spurred on by a substantial increase in all Alpari company customer accounts, including individual traders and money managers worldwide. In the first 10 months of operation, Alpari (US) acquired over 1.6 K new accounts and launched a Latin America division.
About Alpari (US)
Alpari (US), LLC is one of a group of Alpari companies with operations in New York, London, Shanghai, Dubai, Moscow and Kiev. Launched in Russia in 1998, where it is now one of the current market leaders, the companies collectively have a presence in 6 countries with approximately 100,000 Live Accounts and monthly Forex trading volumes in excess of $60 billion*. The group of Alpari companies experienced an impressive growth in Live Accounts during 2008.
Alpari (US), LLC provides high quality Foreign Exchange services with competitive spreads and margins. Established in the United States in 2006, Alpari (US) is strategically located in the heart of the Financial District in New York City. The company is registered with the US Commodity Futures Trading Commission (CFTC) as a Futures Commission Merchant (FCM) and is a member of the US National Futures Association (NFA) (Member ID 0379678).
*As of October 2008
Please note that trading foreign exchange on margin carries a high level of risk and may not be suitable for all investors. For more information about the Forex industry and the regulatory protections offered to those who trade within it, please visit the Commodity Futures Trading Commission (CFTC) and the National Futures Association (NFA) websites at http://www.cftc.gov and http://www.nfa.futures.org.
For further information, please contact:
Jaclyn Cole, Marketing Coordinator
Alpari (US), LLC
(646) 825-5760 ext. 554
Web site: http://www.alpari-us.com
Rick Anderson
The Torrenzano Group
(212)681-1700
###