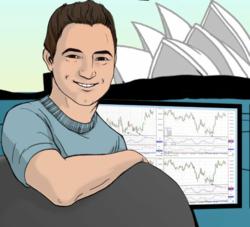 Our new Forex trading beginners course was designed to satisfy the need for a unique and 'fun' Forex introduction course
Gold Coast, Australia (PRWEB) March 19, 2012
Learn To Trade The Market (http://www.LearnToTradeTheMarket.com) an online leader in Forex and price action trading education, today announced the world-wide launch of its Beginner's Forex Trading Education Course. This free introduction to Forex course is a comprehensive tutorial from site founder and head trading coach Nial Fuller that explains all the foundational concepts of the Forex market and Forex trading.
The course will primarily benefit beginning traders who want to gain a thorough understanding of what the Forex market is, why it exists, and how it is traded. It will also serve as a good refresher or reference course for experienced traders who need to brush up on their knowledge of basic Forex trading concepts. The course is composed of a hierarchy of chapters that is designed to guide traders along in an easy to follow and logical manner, for more information visit: Beginners Forex Trading Education Course.
"Our new Forex trading beginners course was designed to satisfy the need for a unique and 'fun' Forex introduction course," said Nial Fuller, President and founder of Learn To Trade The Market. "So much of the introductory Forex trading information on the internet is scattered and boring that I wanted to create a beginner's course with my own unique flair and personality to offer traders a fresh option".
In addition to instruction on the basics of the Forex market and Forex trading, Nial Fuller also discusses his personal style of price action trading in the course. As Nial stated, this works to "fill the gap" left by conventional Forex beginner courses that don't actually give traders any information on real-world trading strategies.
Concepts covered:

What the Forex market is and why it exists
What is Forex trading
How to trade the Forex market
Calculating position sizes and profit / loss
What technical and fundamental analysis are and how they differ
Introductionto Forex charting
What a Forex trading strategy is and different types of them
What is price action trading analysis
Common mistakes and traps of traders
How to make a Forex trading plan
Forex trading psychology
Professional Forex trading strategies
Where to go after learning the basics / on-going training
About Learn to Trade The Market
Learn To Trade The Market is the brain-child of professional trader and trading mentor Nial Fuller. The company teaches forex traders how to trade with simple price action strategies that provide them with an effective and logical trading edge as well as a flexible approach for navigating today's volatile financial markets. Learn To Trade The Market provides forex price action trading education to traders from all experience levels and backgrounds; the concepts taught by Nial Fuller and his team can be applied to any global financial market. In addition to its free forex training services, the company offers traders advanced forex training via Nial Fuller's Professional forex course, members' daily Forex newsletter, members' discussion forum, email support and more.
You Can Follow Nial Fuller on Facebook & Nial Fuller on Google+