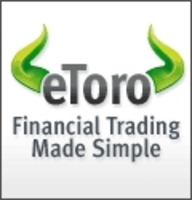 Lymassol, Cyprus (PRWEB) August 6, 2008
Since releasing their innovative forex trading software, the people at eToro have been focusing on surrounding their software with all the creature comforts a trader may fancy. eToro now offers all the advanced forex trading tools and services needed for a complete and professional trading experience, which means that they can afford to focus on all the extra features that make eToro stand apart from the competition.
Such a feature is eToro's community faculties which include chats, forums and trading championships in which eToro's customers are automatically enrolled simply by virtue of trading through the software. Similarly to the demo championship eToro will now hold a real trading championship on a weekly rather than monthly basis. Every week the 10 traders with the most profits for that week will receive terrific cash prizes! eToro is happy to provide this incentive to their traders as part of the effort to help their resident traders develop and improve their trading skills.
In addition eToro is also greatly increasing their first deposit bonus to give new eToro traders a greater opportunity to experience trading through their unique platform. The first deposit bonus eToro offers can get up to $500 and more. With such a large bonus amount, traders can use eToro's money first to try out their forex strategy and skill, before actually putting any of their own money at risk. This bonus boost will also allow new traders to trade with lower leverages, making their trades less risky and less vulnerable to unpredictable market movements.
eToro expect these recent changes to appeal to the ever growing public of forex enthusiasts, and most importantly, to pamper its existing trader base. With their innovative platform and such excellent customer perks to boot, eToro is sure to remain at the forefront of the online forex revolution.
###