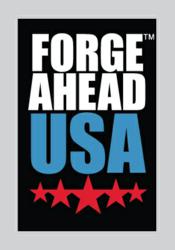 The America Adventure is a great way to share the news about the Forge Ahead USA campaign
Kenosha, WI (PRWEB) October 17, 2012
Competing in this year's AutoWeek America Adventure, Wisconsin-based Team Forge Ahead USA will use the high-profile event to spread an important message. The Forge Ahead USA program promotes buying American-made products, supporting U.S. manufacturers and recycling dollars back into the economy.
The America Adventure is similar to TV's The Amazing Race, with over 30 teams competing to find and reach unusual destinations and then competing in performance driving events. The teams will begin in Colorado Springs on October 24th and navigate their way through the scenic western states, eventually finishing in Las Vegas on the 30th. The six-day event is covered extensively by the national media and also benefits Indy race driver Graham Rahal's foundation for kids in need. Fans can follow the teams live on the web, provided by in-car GPS and on-board camera systems.
The Forge Ahead USA team members are Jhan Dolphin of J Robert Consulting, a Lindenhurst, IL-based Marketing and PR firm, and Steve Wright of Custom Painted Vehicles in Racine, WI. When reaching the finish line in Las Vegas, they will be part of a live press conference that takes place at the huge SEMA (Special Equipment Market Association) auto-industry trade event. SEMA attracts over 100,000 attendees and media personnel from across North America, providing them with an ideal audience to help spread the Made in the USA message.
"The America Adventure is a great way to share the news about the Forge Ahead USA campaign," explained Dolphin. "There is definitely a renewed interest among consumers in buying American-made products, so the timing has never been better for us to bring attention to American manufacturers and their efforts to recycle dollars back into our economy."
The leadership group at Forge Ahead USA (http://www.ForgeAheadUSA.org) has created a complete turn-key program to help American companies benefit from this revived interest in products made in the USA. Available to all American manufacturers, the program contains an extensive package loaded with the promotional tools and educational resources required to spread the word like never before, all under one compelling campaign. It's much more than putting an American-made sticker on a product, it's a national movement that pulls together manufacturing businesses, employees, communities, industry groups and consumers.
To follow Team Forge Ahead USA during this year's adventure, the team's Facebook page (https://www.facebook.com/TeamForgeAheadUSA) will feature hourly updates, photos and live video from the 2012 AutoWeek America Adventure!
During the America Adventure, the team is supported by the following companies: TRICEL Honeycomb Corporation, Inventive Products, Bootlegger 21 Vodka, BASF Automotive Refinish - North America, Hot Sauce Harry's, King Louie America and Custom Painted Vehicles (CPV).
Additional team vehicle photos are available upon request.