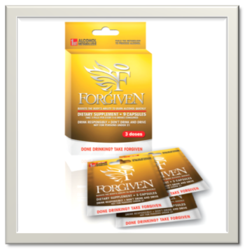 Atlanta, Georgia (PRWEB) April 19, 2012
Forgiven Bottling Group, along with their master distributor, RH Laboratories, has announced that Forgiven Alcohol Metabolizer is now available at all Duane Reade stores.
Forgiven's popular three-dose package is now available for purchase at hundreds of Duane Reade stores. The chain-wide rollout drastically improves the product's availability in New York City, New Jersey, and the surrounding area.
Forgiven has also announced that they will be promoting the product to New Yorkers and tourists with a billboard in Times Square, effective June 18th.
"We're really excited to add Duane Reade to our list of retail partners," says RH Laboratories President, Joshua Maurice. "Our goal is to have Forgiven sold everywhere, so it's never hard to find. We know that, in 'the city that never sleeps,' Forgiven is a must-have!"
Duane Reade is the latest major chain to join the ranks of CVS and GNC, who already carry Forgiven.
About RH Laboratories
RH Laboratories manufactures RockHard Weekend, an all-natural male sexual performance enhancer as well as Pandora, an all-natural sexual enhancer for women. RH Laboratories is constantly using innovative techniques to promote their products not only as supplements but also as a lifestyle. In addition to the products RH Labs manufactures, they are the exclusive distributor of Forgiven, the world's first alcohol metabolizer.
About Forgiven Bottling Group
Chas Aday and TJ Lavin formed Forgiven Bottling Group in 2009. Their product, Forgiven, is the first and only product on the market that has been shown to increase the rate at which the body processes alcohol. In the initial clinical trial, the average increase in metabolic rate was over 500 percent. The product's proprietary blend of all-natural ingredients includes organic acids, amino acids, vitamins, and herbs that increase the body's metabolic rate while restoring the necessary amounts of essential vitamins and nutrients.