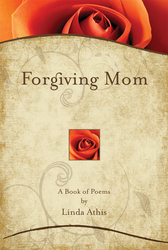 "I used to get angry looking for Mother's Day cards. None reflected my reality. Complex and conflicted. That was my relationship with Mom." -Author Linda Athis
Salt Lake City, UT (PRWEB) April 21, 2010
"Forgiving Mom," a gift book about a mom and daughter who resolve a lifelong conflict, has just been released in the Amazon Kindle format for $6.00. A color version for iPad's iBooks will be submitted early this summer.
On Mother's Day, some daughters are surprised by their anger and discomfort. Such troubled mother/daughter relations can be subterranean: Hidden guilt, lifelong verbal jabs, an unspoken level of competition, and a frustrating inability to relate to the greeting card verse sent on Mother's Day. "Forgiving Mom" is a book meant to heal. To give courage to mothers and daughters to work things out before the inevitable and final separation - death.
Author Linda Athis now greets each Mother's Day with peace, "because I chose to settle things with my Mom before she died," she said. "If you haven't done so, do it now. Whatever the history, no matter how horrible the situation, find a way to forgive. Trust me, this is a selfish act. You will be doing it for yourself," she said. "Oh, yes…it will make your Mother much happier too."
Dr. Dorothy Firman, New York Times bestselling co-author of "Chicken Soup for the Mother and Daughter Soul", reviewed "Forgiving Mom." "Having worked for thirty years in the field of mother/daughter relationships, with my own mother who is now 89, I have seen this fragile and powerful relationship in its many stages of health and wounding," said Firman. "Poetry transcends time and space and the poetry that Linda has written about her relationship to her mother, moves the reader through all the pain, all the glory and beautifully into the love and forgiveness that mothers and daughters truly owe each other."
Harold Ivan Smith, author of "ABC's of Healthy Grieving: A Companion for Everyday Coping", adds, "'Forgiving Mom' offers a long-overdue gift to individuals who have experienced tough life paths with a mother. Read these poems slowly. Read them aloud. Read them to a friend or sibling. Let the wisdom of this courageous poet nudge you to acts of forgiving."
Forgiving Mom has also been reviewed by Paula J. Caplan, Ph.D., Harvard University, author of "Don't Blame Mother: Mending the Mother-Daughter Relationship," and Carol D. O'Dell, author of, "Mothering Mother." Their comments can be found on http://www.ForgivingMom.com
This is a book for:
1. Boomers dealing with aging/dying parents.
2. Generation Y women frustrated with their moms.
3. Mothers with rebellious children.
4. The growing ranks of hospice workers, grief counselors and their patients.
Category: Gift book, poetry
Pages: 22, 14 poems
Kindle price: $6.00
Retail price: $16.96
ISBN: 978-0-9815122-0-4
About the Author
A Salt Lake City, Utah native, Linda Athis earns a living as a freelance business writer. She has had many life identities: custodian, waitress, actress, appliance saleswoman, Avon lady, business executive, and wife. As evidenced by her poetry, she is also a reformed rebellious daughter.
Sample Poem:
Strange Embrace
-Linda Athis
The most loving embrace
I ever gave,
was over a toilet.
There sat my Mother
unable to speak,
pleading for response
from a body shutting down.
Our eyes met in fear.
We did not share
what we both knew.
Death whispered near.
I'm sorry she said,
as if she caused this,
had cruelly wished a curse
upon me, her caregiver.
In that second my heart split,
ripped raw by a mean and jagged knife.
My stronger, youthful arms reached out,
fiercely wrapped around her bony frame.
And there we paused
in a deep, strange embrace.
Resting, loving, weeping
for all things left unsaid.
# # #