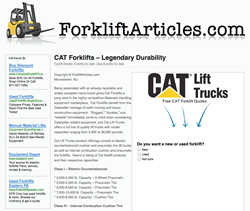 CAT Forklifts benefit from the Caterpillar heritage of earth-moving and heavy construction equipment
Moorestown, New Jersey (PRWEB) December 14, 2012
According to a recent article that appeared on ForkliftArticles.com, being associated and even overshadowed by a family member with an excellent reputation can be a very definite benefit. CAT Forklifts benefit from the Caterpillar heritage of earth-moving and heavy construction equipment. "Rugged," "durable," and "reliable" immediately come to mind when considering Caterpillar-related equipment and CAT Forklifts receive a jump start in the highly competitive Materials Handling equipment marketplace because of this association.
The article lists the fourteen lift products manufactured and distributed by CAT. Among the unique industry-leading features found in most CAT Lift Truck products are fingertip controls, the advanced operator Presence Detection System (PDS), Informative LED displays, and high strength mast and carriage designs.
Because of high customer expectations, CAT Lift Trucks provides low maintenance products and offers extended service intervals with the goal of minimizing downtime through ease of completing planned maintenance, thus helping the bottom line of their customers. CAT Forklift Dealers serve their customers through an extensive field network dedicated to continuous improvement. CAT Forklift Sales enjoy extensive parts and training support throughout the U.S., Canada and Latin America. Every new CAT Forklift is backed by a two-year unlimited-hours warranty, a Free Loaner Service Guarantee, and the "Parts Fast or Parts Free" Guarantee, which ensures next-business day delivery of parts or they are free.
Coming from a family with the Caterpillar connection, CAT has a reputation to live up to, and it wears its label with pride, as reflected in optimum quality and reliability throughout its total CAT Forklift operation, from design, to engineering, production, maintenance and service.