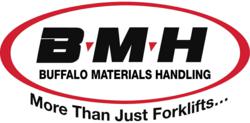 Buffalo, NY (PRWEB) April 02, 2013
Buffalo Materials Handling is pleased to announce that it is now offering the most comprehensive Occupational Safety and Health Administration (OSHA) certified lift truck training in the industry.
Forklift truck drivers must be certified every three years, and no one is more committed to training for success, and keeping operations running smoothly, than Buffalo Materials Handling. BMH offers the most comprehensive set of operator certification, training, train the trainer and renewal programs in Western New York for all brands of lift trucks.
All first time and continuing educational courses are fully OSHA certified. They provide the opportunity to establish organizational safety and performance standards through innovative instruction techniques, resulting in successful deployment of best practices when using material handling equipment.
Buffalo Materials Handling offers easy and convenient training location options to suit every organization's preference. Employees can visit the BMH training facility or BMH professionals will train on site at the place of business. In addition, training options are available at any partnered training location across North America.
Buffalo Materials Handling was named "one of fastest growing companies in WNY" in 2012, and training is part of the expansion process. For more information about BMH's comprehensive certification and training programs please contact them today at 716-894-6370 or by visiting http://www.buffalomaterialshandling.com.
About the company:
Buffalo Materials Handling is a locally owned and operated forklift sales company that has been in existence for over 50 years. Although they represent the leading forklift lines in America: Crown and Nissan – they are far more than just lift forklifts. BMH provides an extensive line of material handling equipment and services. BMH professionals understand materials handling and will recommend the right lift trucks, material handling equipment, service programs and parts for every situation. BMH is also experienced in maximizing warehouse space and increasing productivity. The organization has helped customers in the WNY area become more profitable for over 50 years. Please call 716-894-6370 to discuss your company's needs. BMH services the entire Western New York area, from Buffalo and Rochester to Niagara Falls and the Southern Tier.