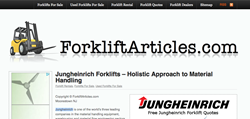 holistic has been chosen to describe Jungheinrich's role in the industry because they combine the manufacture of material handling machinery with the design of the warehouses in which it will be used
Moorestown, New Jersey (PRWEB) December 12, 2012
Forklift technology has come a long way over the past 100 years, but according to Forkliftarticles.com, a New Jersey-based industry observer and promoter, Jungheinrich Lift Trucks, with headquarters in Hamburg, Germany and U.S. operations based in Houston, Texas, has jumped to the head of the pack because of its holistic approach to materials handling. According to the article, "holistic" best describes Jungheinrich's role in the industry because the company combines the custom design and manufacture of material handling equipment (primarily forklifts) with the design and construction of the warehouses in which it will be used. The end result of this holistic approach is the ability to automate the process much more extensively than ever-dreamed possible.
Jungheinrich has carved out a niche for itself in the logistics field by working with companies from the ground up, first in the design of their buildings, integrating the manufacturing element with the warehousing and shipping facilities for the finished products and then custom designing the appropriate materials handling equipment that will operate within that manufacturing facility.
Jungheinrich has been acclaimed as Number One in forklift and system technology in Europe. It is also the third largest supplier of forklift trucks in the world. The company, one of the younger participants in the highly competitive Fork Lift industry, began in Hamburg, Germany during the post-war reconstruction period. Space constraints in warehouses guided their design engineers to respond with appropriate high stacking and narrow aisle lift machine models, which significantly improved the utilization of warehouse space and height. This sensitivity to quality and ergonomics in product design has catapulted Jungheinrich to it leadership role in the world of forklifts.
Whether a buyer is interested in purchasing a new forklift or is in the market for a used forklift for sale, independent of the Jungheinrich company's leadership role in the integration of manufacturing facilities with materials handling equipment, all Jungheinrich forklifts reflect the quality and standards expected of German engineering as well as the innovation on which the company has built its reputation.
Jungheinrich is the company to watch as the industry moves rapidly towards expanded automation. The holistic approach towards facilities and equipment design ensures Jungheinrich's leadership role in future industry trends. Company literature repeatedly articulates Jungheinrich's commitment to being an active player in the future development of the industry and to blazing new trails on behalf of their customers.
This is but one of many articles found at Forkliftarticles.com highlighting trends in the material handling industry.