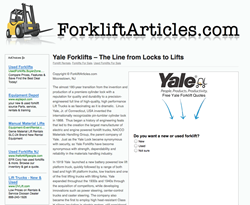 Yale's claim is that every component is designed for strength, durability and reliability.
Moorestown, New Jersey (PRWEB) December 13, 2012
ForkliftArticles.com recently delved into the secret of Yale's success by focusing on the inner workings of a selected Yale Forklift. Yale sees components as critical to a truck's value and economic life. The interaction of their product components with other systems in a lift truck is of special concern to the Yale engineering staff, so much so that every component is carefully and deliberately designed, engineered and manufactured for all Yale lift trucks. Yale's claim is that every component is designed for strength, durability and reliability. To this end, the journalistic staff at ForkliftArticles.com selected Yale's Narrow Aisle Truck to examine the unique engineering features of its critical components.
The article explores Yale's reach mechanisms in the selected product, the hose routing, and the Reach Assembly's rear carrier, as well as the thick inner frame side weldments. The location of grease fittings at major pivot points is also explored. The article noted special Yale features which reduce stress and ensure longer service life. The analysis confirms Yale's commitment to an integrated system of critical components to ensure durability and safety.
Whether referring to a University or a cylinder lock, "Yale" is a brand that demands respect. Most people do not make the connection between the lock company and the forklift company by the same name. However, it was Linus Yale, Jr. of Connecticut, USA who invented the internationally recognizable pin-tumbler cylinder lock in 1868, and the very same Linus Yale who is responsible for the creation of the Yale Forklift. Yale was one of the first materials handling trucks in 1919 – it was a battery powered low lift platform truck, quickly followed by a range of both load and high lift platform trucks, tow tractors and one of the first lifting trucks with tilting forks. The company was headquartered in Philadelphia, then in Flemington, New Jersey and finally, in 1998 moved to Greenville, North Carolina, its present headquarters.
Today, over 350 Yale Forklift Dealers can be found in over 62 countries worldwide. Yale's unique blend of product excellence and customer commitment make their forklifts, whether new or used, much sought-after products.