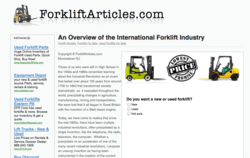 A "must visit" site for anyone in the market for a new or used forklift!
Moorestown, NJ (PRWEB) December 04, 2012
ForkliftArticles.com may not appear to be a social commentary website, but based on a recent article that the Moorestown, NJ website published about the impact of forklifts and material handling equipment on society, commerce and the international economy, it may become required reading for investors and MBA candidates.
The article, "An Overview Of the International Forklift Industry" stands out among twenty some recent articles on the site highlighting the top twenty major international Forklift manufacturing companies. Reacting to the fact that China has become the first largest forklift sales market in the world, and that world forklift sales have reached a historic high of 300,000 units sold in 2011, a journalist at ForkliftArticles.com decided to chart the role of forklifts in the current economy.
Using an example of a recent internet purchase of a replacement part for a child's toy from Amazon.com, the author determined that from the retrieval of the raw material through manufacture, packaging, warehousing and shipping, the simple part had between 15 and 21 encounters with a forklift before its arrival at the purchasers door. This startling fact partly explains, according to the article, the boom in forklift sales in recent years.
ForkliftArticles.com, which caters to both small and large industries requiring the storage and movement of material and products has analyzed the origins, history and development of the major forklift manufacturers and concluded that forklifts are the unsung heroes of modern industry and the catalysts in the transformation of world manufacturing practices. A recent article concluded that the forklift is probably the most important piece of equipment in a company's arsenal.
In tracking the evolution of the forklift industry, ForkliftArticles.com has marveled at the high level of competition within the industry and at the response of the design engineers to the changing demands of the various industries using material handling equipment.
Whether you are in the market for a new forklift or used forklift for sale or not, you might find some interesting social commentary and practical economic predictions at ForkliftArticles.com.