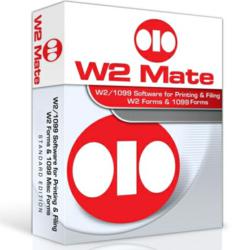 Many businesses and tax professionals are seeking for easy-to-use, reliable as well as cost-effective 1099 software to file wage and information returns with the IRS and SSA. That's what W2 Mate software offers.
Chicago, IL (PRWEB) December 02, 2011
Real Business Solutions, a leading provider of easy-to-use 1099 reporting software, W2 software, payroll processing and sales tax solutions, today announces the 2011 version of W2 Mate, a comprehensive W2 / 1099 filing solution with advanced features that go beyond the basic functionality offered by other 1099 systems. Importing 1099 data from accounting software applications such as QuickBooks and Peachtree, which is limited in other 1099 applications, can be easily done using W2 Mate 2011.
The 1099 system from W2Mate.com arrives as the professional 1099 filing and preparation tool essential to every business, CPA, tax professional or 1099 service provider. The new software provides all the features users need to process, create, import, print, and E-file 1099 forms for the 2011 / 2012 tax season. Thanks to its powerful import engine, W2 Mate software can import and re-map 1099 data stored inside leading accounting software applications including Intuit QuickBooks, Sage Peachtree, Sage DacEasy, Microsoft Dynamics and Great Plains. Free form 1099 software trial is available at W2Mate.com.
W2 Mate W2 and 1099 system offers support for paper-print and paperless (electronic) wage and information return preparation for W-2, 1099-DIV, 1099-MISC, 1099-INT, 1099-R, 1099-S, 1098-T, 1098, 1099-A, 1099-B, 1099-C, 1099-PATR, 1099-OID and associated transmittals (1096 and W-3 forms).
W2 Mate software supports an unlimited number of employees, recipients, filers, employers, borrowers, lenders, debtors or creditors. Recipient copies can be printed on regular paper with black ink. Data can be imported from Microsoft Excel / CSV, accounting applications, IRS Publication 1220 files or SSA EFW2 format files. The W2 1099 software can report IRS copy A on paper or through electronic filing with the IRS FIRE System.
You can download a free evaluation of W2 Mate and see how easy it's to process 1099s, W2s and 1098 Forms. Visit http://www.realtaxtools.com/ to get started.
# # #