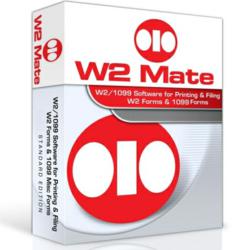 The 1099-S filing module inside W2 Mate software arrives as the professional 1099 Real Estate preparation tool essential to every real estate broker, real estate lawyer and tax professional in the 2011 / 2012 tax season.
Chicago, IL (PRWEB) January 04, 2012
Real Business Solutions (http://www.W2Mate.com) is proud to present the newest addition to its W2 Mate software, 1099-S processing module, that covers all the 1099S electronic reporting and printing requirements of settlement agents, real estate lawyers and CPAs. W2 Mate software imports data from Intuit QuickBooks, Sage Peachtree, Sage DacEasy, Microsoft Dynamics GP / SL, Excel, Publication 1220 format and other sources. W2 Mate, W2 and 1099 software, is loaded with features that make it easy and affordable for filers to prepare IRS 1099 tax forms including 1099-S (Proceeds from Real Estate Transactions). The 2011 / 2012 tax season is easy and stress-free with W2 Mate.
W2 Mate software serves businesses and tax professionals across the United States and Canada. Its current clients include accounting firms, banks, hotel chains, universities, municipalities, factories and hospitals, to mention a few. A FREE 1099-S Software trial can be downloaded from the company's website by visiting http://www.w2mate.com/.
The 1099-S module for 2011 offers huge savings in time and money for business filers and accounting firms by allowing them to print an unlimited number of 1099-S forms (transferor or recipient copies) on regular white paper. The module can also generate an unlimited number of 1099-S E-filing submissions to the IRS FIRE System for one low fee.
Settlement agents (Real Estate Brokers, Real Estate Agents, Escrow Companies and Banks) are required by law to obtain the necessary information to complete and file Form 1099-S prior to the close of escrow. The IRS can charge the transferor (seller) penalties for non-compliance. W2 Mate software takes the complexity out of 1099-S compliance and makes 1099-S processing easy and affordable.
In a statement Nancy Walters, W2 Mate product manager at Real Business Solutions said, "The 2011 release of W2 Mate software reflects our deep commitment to delivering high-quality and affordable 1099S filing solutions that help businesses of every size process 1099 Real Estate tax forms in-house. 1099 reporting is a chore, but it doesn't have to be. This is why we built W2 Mate. A Powerful and affordable 1099 software that takes the complexity out of year-end-reporting by providing the right tools to file W2 forms with the SSA and 1099 forms with the IRS."
W2 Mate software highlights:

W2 EFile support (Complies with SSA EFW2 format Specifications for Filing Forms W-2 Electronically)
1099 EFile support (Complies with IRS Publication 1220- Specifications for Filing Form 1099 Electronically)
Generates ready-to-email w2 forms and 1099 forms. Which eliminates the need to print and email W2s and 1099s.
For paper filers 1096 and W3 are automatically generated.
Unlimited W2 forms and 1099 forms.
SSA approved to print W2 & W3 forms on regular white paper, which eliminates the need for expensive forms.
Network ready with affordable pricing for multiple seats.
W2 and 1099 data checking and validation.
Prints on pre-printed 1099 forms & W2 Forms.
Prints 1099 Form Copies & W2 Copies on blank paper.
Direct data import for QuickBooks 1099 forms and QuickBooks W2 forms.
W2 1099 data import from CSV file.
Exports W2s and 1099s to excel.
Give the 1099 Proceeds from Real Estate Transactions Software from W2Mate.com a test drive and see for yourself how easy 1099-S electronic reporting and printing can be. Visit 1099-S software page.
###