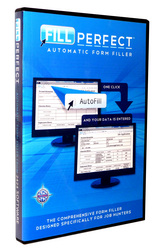 Houston, TX (Vocus) June 22, 2010
2424 Software released FillPerfect® form filler Version 2.1, demonstrating America's ability to overcome through innovation. Created by an MIT grad who lost his job in the recession, FillPerfect® brings job hunting into the 21st century. The Internet Explorer add-on delivers unemployment a double blow by accurately completing all types of job applications and by providing instant access to resources vital to every job hunter.
With FillPerfect® applications are completed instantly and accurately with a click of a button. No more typing the same information over and over. Simply click Auto-Fill, review, and submit more applications then you ever thought possible. Now job hunters can focus on researching, networking, and interviewing instead of filling out applications.
FillPerfect® form filler works by analyzing key words and phrases in their context, automatically filling-in:
 

name, address, and contact information,
education and employment history,
references,
military service,
career goals,
 
. . . and other common details on online forms.
Not only are applications completed instantly but with FillPerfect® you never have to worry about embarrassing mistakes or typos again. Just enter the information once and you're done.
Unlike other form-fillers, FillPerfect® also handles check boxes, radio buttons, and selection lists.  And FillPerfect® clearly highlights uncommon and job-specific fields it cannot automatically complete – making accurate review a snap.
 
See how easy it is yourself.  Watch FillPerfect® in action on FillPerfect.com and YouTube.  For further details, visit http://www.FillPerfect.com.  Or call 2424 Software at 281-257-6302 today.
FillPerfect®  Automatic Form Filler comes with a 15-day money-back guarantee.  It is available instantly for $24.99* (SRP) via electronic download – or shipped on CD for $34.98* (SRP).
  
2424 Software, LLC develops and sells high quality, productivity-boosting software for home computer users everywhere.  FillPerfect® form filler has been shipping since November, 2009.
NOTE TO EDITORS: FillPerfect® is a registered trademark of 2424 SOFTWARE, LLC.  Suggested retail price (SRP) is subject to change without notice.
###