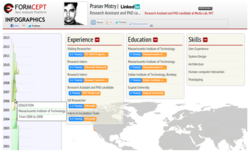 It has come to the fore that lack of visibility rather than lack of talent is proving to be the hindrance for the recruitment industry that has the market size of $400 billion globally
Bangalore, Karnataka, India (PRWEB) June 28, 2013
FORMCEPT has developed a first-of-its-kind product HR Intent that will enable recruiters to optimize their hiring process. It helps recruiters to find the 'Best-Fit' for a particular job description from a large pool of candidates. The product can also be used by the candidates to generate an eye-catching resume Infographic that can be shared with the recruiters and friends.
HR Intent is built on top of FORMCEPT's Big Data Analysis platform – MECBOT. Listed below are some of the key features-
1. Extract information from a variety of file formats
2. Event-line representation of various events in the area of Education, Experience, etc.
3. Profile enrichment using state-of-the-art extensible KnowledgeBase
4. Generate Resume Infographic
5. Job Description based Search
6. Side-by-side comparison of more than one resume
7. Search for candidates using simple plain English
HR Intent automates all the steps involved right from the collection of resume to its delivery to the right team within the organization. A recruiter needs to just upload the Job Description through the Intent and specify the pool of resume. The system then identifies the right candidate and also provides a mechanism to compare the candidate side-by-side using the event-line. The automated extraction and filtering of the resume based on the job description not only saves cost, time and effort but also expedites the entire recruitment process resulting in faster go-to-market for target products.
HR Intent also generates an Infographic for each resume that contains an event-line highlighting the major events under education, experience, projects and achievements giving a bird's eye view of a candidate's profile. In addition to the event-line, HR Intent can easily scan and categorize "keywords" and "buzzwords" to specific domains like Finance, Business, Agriculture and more using FORMCEPT's KnowledgeBase.
Candidates too can utilize the HR Intent to make their resume visually appealing. They can upload their existing resume and generate an Infographic for the same. The built-in analysis tool also provides an instant feedback to the candidate by citing the gaps and skills to be focused on.
By utilizing the patent-pending analysis technology underneath, HR Intent empowers the recruiters to perform their tasks efficiently by simplifying the entire recruitment process.
To know more about HR Intent, please take a look at: FORMCEPT transforms Recruitment using Big Data or drop an email to sales(at)formcept.com
About FORMCEPT
----------------------------
FORMCEPT is one of India's leading Big Data analysis organizations. Their endeavour is to offer actionable insights to everyone - an enterprise, an individual or a device. They have designed high-tech solutions that are available both as installable products and as a Service.