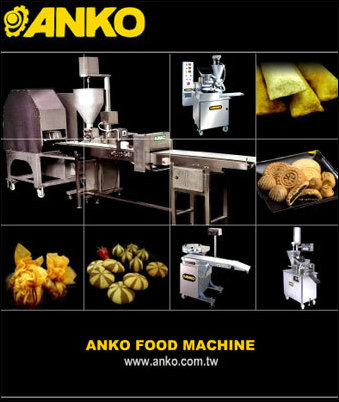 ANKO also considers machine size due to the limited land space, particularly in Japan and Korea. From this point of view, the company designed this machine to be less than 50 cm high and weigh only 25 kg.
(PRWEB) July 13, 2006
"Undoubtedly ANKO Food Machine Co., Ltd. (ANKO for short) is the best choice for food machine manufacture. ANKO food machines not only make fussy and demanding customers happy but also produce better products than hand-made. Our customers have succeeded is our success," said ANKO Chairman Mr Robert Ou-young. Now the machines are available worldwide. He leads the firms continuous innovation and development to meet multi-national food fashions and traditional food markets. The company works very hard to reach their goal, which is to be the greatest worldwide manufacture in traditional food machine market. Moreover, they promise to be a better and best quality manufacturer and to ensure their service is well delivered to their customers with even tiny details.
ANKO makes the following products:
Automatic Nigiri Forming Machine (SS-3000)
The SS-3000 series is the only machine which has Korean Patent No 0371839 and is marketed world-wide. Automatic Nigiri Forming Machine is especially designed for Japanese and Korean food culture. Part of the advanced technology the machine is of non-sticky special material so that the rice will not stick on the machine. It's therefore much easier to clean.
A delicious Nigiri (Sushi) is not only dependent on the decoration on the top but more importantly on the size and weight of the rice. Different ratios of the mixing contents make for different mouth-feel. For this reason, machine-made Nigiri excluded glutinous rice all the time in the past. Fortunately, SS-3000 series solved this annoying problem. It provides adjustable sizes and weights to make the best quality and character in Nigiri. The machine produces maxim 3,000 Nigiri per hour to reduce mealtime rush hour problems.
"High production and quality products do not reach the good standard for the service at the present," said Ou-young. "ANKO also considers machine size due to the limited land space, particularly in Japan and Korea. From this point of view, the company designed this machine to be less than 50 cm high and weigh only 25 kg."
Automatic Sealed Ends Finger Spring Roll(FSP)
Automatic Sealed Ends Finger Spring Roll Machine has patents in both Taiwan and Japan, it brings a brand-new meaning to the spring roll. The machine accomplishes production flow at one go, from the initial stage to packing through eight steps, which include feeding, baking, filling, gluing, rolling, cutting, sealing, and freezing (frying). It totally replaced man-made spring rolls and reduced costs of labor and production time. As well, automatic production reduces foodstuffs infected by germs and increases sanitary standards.
With advance design, on the FSP series we adopted food grade stainless steel to all parts which contact with food and made sure all electronic components meet international standards. The heavyweight machine has a special design that is easy to assemble, clean and maintain.
This machine could produce different size products according to market demands as well as different kinds of pastry and fillings. You may create new snack or finger food. For example, it's possible to change the pastry (spring roll pastries, crepes, egg sheets etc) and the filling (meat, cheese, red bean paste, chocolate, date paste, fruit jam etc).
Automatic Encrusting Forming Machine(SD-97S)
From Oriental to Western snacks and with patents in seven countries, the Automatic Encrusting Forming Machine is designed specially for small bakeries and restaurants. This amazing tiny machine will not let buyers down. It can produce more than a 2,000 item output per hour. It also produces various oriental and western snacks that include fruit bars, mini pizzas, mochis and filled cookies.
Automatic Dumpling Folding Machine(HLT)
How can diners define a good dumpling? The pastry must have a good texture and it must seem "hand-made." That is because machine made dumplings lose pastry elasticity and change the real taste of fillings. However, the Automatic Dumpling Folding Machine makes a difference to dumplings. In order to keep pastry's elasticity, it mixes flour with 33-35% water together to make dough and sends the dough through six pressing wheels and to the baking sheet with minimum of 0.5mm pastry. Finally, it puts the dough into HLT to produce dumplings. The HLT series adopts special piston filling device to keep a good texture and ensure the filling stays in good condition after stirring. All these procedures break tradition and make the taste of dumplings just like hand-made.
All products from ANKO have relative peripheral equipment to satisfy customers' one-stop shopping needs. The company customized the machines to match up with particular food market demands. For example it provides full details of all feasible analysis, designs, how to rebuild the factories, choose the right equipment and install the machines to the right places. We help companies to do foodstuffs assessment at the end. ANKO is willing to share their professional technologies and experiences with all others, and they are helping people with testing, manufacturing, packaging, and marketing.
Profile
ANKO Food Machine Co., Ltd.
CEO : Robert Ou-young
History
1978-Automatic Seed Sprouters
1985-Manufactured Chinese Snack Food Machines
1990-Specialized Manufactured multi-ethnic food machines
Motto: Continue innovating and developing. ANKO is as proud as a peacock when our customers succeed.
Main Products
There are other products also provide by ANKO, such as a multipurpose filling and forming machine, an automatic encrusting and forming machine, an automatic spring roll pastry and samosa pastry machine, an automatic shu mai making machine, a double line machine, an automatic encrusting and forming machine, and a semi automatic spring roll and samosa machine. For more information, please visit ANKO's web site: http://www.allproducts.com/PR/full_story_ANKO.htm.
###