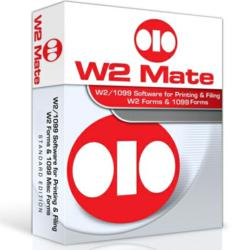 In 2012, thousands of businesses and accountants will trust W2 Mate to prepare their 2011 W2s and 1099s on time.
(PRWEB) January 25, 2012
W2 Mate software (http://www.realtaxtools.com) reminds business filers of the 1099 mailing deadline for 2012, which falls on Tuesday, January 31, 2012.W2 Mate software provides everything users need to generate recipient copies of forms W2, 1099-MISC, 1099-INT, 1099-DIV, 1099-R, 1099-S, 1098-T, 1098, 1099-A, 1099-B, 1099-C, 1099-PATR and 1099-OID on regular white paper. The W2 1099 software can also be used for filing W2s and 1099s to the IRS and SSA either on paper or electronically.
A free demo of the 1099 software can be downloaded from http://www.realtaxtools.com/. Customers can purchase the software and receive it instantly.
W2 Mate 1099 Software Highlights

Eliminates need to print and mail recipient copies of 1099-MISC form or employee copies of W2 form. This software generates electronic employee copies of W2 Form and electronic recipient statements of 1099 MISC form in - Adobe PDF format with password protection for security purposes.
Eliminates the need for buying Forms W2 Copy A and W3 by printing government-approved laser substitutes for these forms on plain white paper.
Supports an unlimited number of 1099 Filers and unlimited number of employees and 1099 recipients.
Automatically generates 1096 and W3 Forms.
Prints 1099 Form Copies & W2 Copies on blank paper.
Complies with IRS Publication 1220 (Specifications for Filing Forms 1099 Electronically).
Complies with SSA Specifications for Filing Forms W-2 Electronically (EFW2).
Prints on pre-printed 1099 forms and W2 Forms.
Imports data for W2 and 1099 forms from Excel / CSV files.
Imports data directly from QuickBooks, which removes the "800 Form" / "$10 Million payroll" maximum.
Exports W2 and 1099 data (employer, employee, payer and 1099 recipient information) to Excel format.
Imports data from Sage Peachtree, Sage DacEasy, Microsoft Dynamics and MS Great Plains.
Meet the 2011 / 2012 1099 deadline. Download W2 Mate and print 1099 forms in minutes. Click here to download.
###