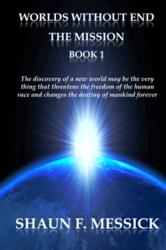 Shaun F. Messick has written an excellent story (book 1 of 4) that includes fantastic character development and thrilling narrative. His descriptive storytelling makes one feel as if they were truly present.
Shelley, ID (PRWEB) March 17, 2011
In The Mission (book 1 of the Worlds Without End series), Messick intertwines theology from the Church of Jesus Christ of Latter-Day Saints into a thrilling ride that expands across the galaxy. The novel encompasses the reader into the age-old struggle of mankind's desire for freedom and ultimate potential as children of God.
Book Summary
Twenty-three years after the disappearance of the Mars I space shuttle, NASA receives a mysterious transmission from Adrian Palmer, the commander of the mission. Adrian's brother, Kevin, wastes no time funding the Mars II rescue mission, commanded by Jake Palmer, Adrian's son.
Jake and Dr. Steven "Skip" Hendricks, a NASA physicist, travel through a wormhole that Skip believes was the reason the Mars I crew disappeared. They eventually crash-land on a planet 22-light-years from Earth called Terrest and are thrust into a dangerous conflict. The native Terrestrians are at war against a super-race of humans called the Gnols, led by Koroan Chast.
The Terrestrian's struggle is futile, however, because of the godlike abilities of the Gnols. Now, the only hope mankind has may rest on a 2000-year-old prophecy, given by Jesus Christ Himself, discovered in an ancient temple on Terrest. But before the prophecy can come to pass, Adrian and Jake must first stop the Gnols from attacking Earth and enslaving the human race.
About the Author
Shaun F. Messick earned his Masters of Arts degree in Educational Supervision and Evaluation from the University of Phoenix. He earned his Bachelors degree in Secondary Education from Idaho State University. Currently, Mr. Messick works as a school administrator. Besides his busy schedule in education, he has found the time to pursue his true passion – writing.
The idea for the Worlds Without End series came to him while his daughter was being treated for Leukemia at Primary Children's Hospital in Salt Lake City, UT. Mr. Messick's daughter is now cancer free, and he donates portions of his royalties to the Children's Cancer Society, Primary Children's Hospital, and the Ronald McDonald House.
He currently resides in Shelley, Idaho with his wife and four healthy children.
In 2011, Mr. Messick founded Forrest Publications, his own imprint, to publish the Worlds Without End series and future books. In the near future, the company will also offer marketing services for self-published authors such as book trailers, press releases, etc. For more information, visit http://www.ForrestPublications.com.
For review copies or interview request, contact:
Forrest Publications
Marketing Services
info(at)forrestpublications(dot)com
(When requesting a review copy, please provide a street address.)
###