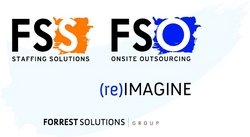 Strategic enterprise-wide talent solutions and onsite outsourcing services that optimize business performance, boost employee morale, and maximize both our clients' and employees' experience at every touch point
New York, NY (PRWEB) July 16, 2010
Forrest Solutions, one of New York's oldest and most successful staffing companies, has rebranded itself as Forrest Solutions Group and established two Operating Companies within it as FSS, to deliver enterprise-wide Staffing Solutions, and FSO, to deliver full service Onsite Outsourcing Solutions.
A long-standing resident of Manhattan, Forrest Solutions' deep relationships with the City's businesses and professionals have made it the veteran of numerous exceptional service and employee awards over the years and a trusted partner when it comes to temporary, temp-to-hire, direct hire and consulting talent needs.
"We are well poised to provide businesses across the region with access to strategic enterprise-wide talent solutions and outsourcing services that optimize business performance, boost employee morale, and maximize both our clients' and employees' experience at every touch point." says Mitchell D. Weiner, Chief Happiness Officer & Owner. "We've made some important changes to the way we do business in response to what the market is asking for — from the way we speak, to the level of talent we source, to individuals' titles and soon to be, office space."
FSS provides enterprise-wide talent solutions in the areas of Accounting & Finance, Administrative & Office, Counsel & Legal, Information Technology, and Sales & Marketing. More information can be found at FSS-Staffing.com
FSO provides onsite outsourcing solutions in the areas of Corporate Services, Document & Device Management, Mail & Logistics Management, Records Management, Legal Solutions, and Information Technology Solutions. More information can be found at FSO-Outsourcing.com
"The market has been ready for a partner that truly takes the time to understand their needs," said Jim Caton, Chief Chaos Officer of FSO. "Our re-entry into the Onsite Outsourcing business could not come at a better time and we could not be more ready to take the onsite outsourcing market to a new level".
The company's overarching mission is to encourage the market to "re-imagine" staffing and outsourcing as they see it today and that message is the fabric of both the FSS and FSO operating companies.
About Forrest Solutions Group
Forrest Solutions Group is an enterprise-wide staffing and onsite outsourcing firm that has been in business since 1976 and recently organized into two distinct operating companies, FSS & FSO, providing clients with access to a broader suite of services. The company's daily operations are overseen by the owners themselves and a tenured Executive Leadership team, underpinned by innovative technology, the deepest network of talent in the industry, and over 35 years of relationships in the New York market. Forrest Solutions Group is the recipient of numerous quality and performance awards and boasts exceptional client retention and satisfaction rates. Visit us at ThinkFSG.com for more information.
Media Contact
Laura McGarrity
Sr. Creative & Marketing Executive
T: +1 212.204.1029
# # #