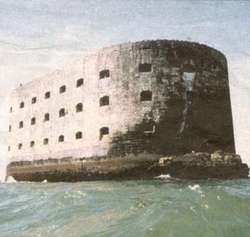 (PRWeb UK) November 1, 2010
History fans are being offered the opportunity to stay in a real life Fort. The 16th century Fort Chapard will be accepting guests in the new year. The hotel venture is due to start renovation work this month and be open to guest by November 2011.
The Hotel will offer 20 rooms and is being described as "Boutique Fort" accommodation, with one lucky guest having panoramic 360 degree views. Prices are predicted to start at £150 per night with the Chapard suites set to fetch up to £350.
The development is set in 100 acres and incorporates a 100 year old manmade lake, the developers claim that once work is complete they will stock the lake with £10,000 worth of fishstock . Total costs of the project are expected to be £2m and is funded in part by a Dubai consortium.
Guest can expect an experience to remember as the restaurant will be part of the medieval theme banquet hall in the authentic setting, complete with costumed waiting staff. Every room will feature high speed 100mbps broadband connections with bathroom offering luxury Grohe bathroom suites.
Travel writers are being offered the opportunity to visit the Fort Chapard site in spring 2011 and booking are being taken now. To attend contact Reputation 24/7.
###