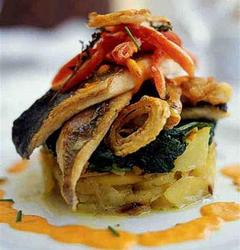 (PRWeb UK) November 5, 2010
Fort Chapard Hotel is undergoing extensive renovation and announces the imminent opening of its prestigious new restaurant, The Moat. This iconic, historic building is expected to enjoy much success with its blend of old and modern styles and the sympathetic refurbishment of the building, which sits in the centre of a 100-acre site. The restaurant is set to add further kudos to this exclusive hotel complex.
The Moat restaurant will focus on fine dining and will feature a modern British menu specialising in locally sourced, seasonal produce. The 60-seat dining room will be lavishly decorated in rich fabrics and opulent tableware to reflect the high standards of interior finishing used throughout the rest of Fort Chapard. The Moat will be open for lunch and dinner service, whilst guests will also be able to order room service from a carefully selected range of dishes on the main dining menu. The wine cellar is being carefully stocked and will be run by the Head Sommelier, Jean-Paul Levine, who has over 20 years' experience working in top restaurants all over the world. As well as the main dining room, guests can enjoy pre- and post-dinner drinks in the Fort Chapard Bar, which adjoins the restaurant. It will offer a laid-back but exclusive environment in which to enjoy a cocktail or a glass of fine wine from the extensive wine list.
Seasonal food is of great importance to Head Chef, David Dukes. "I've spent a long time developing a menu that reflects contemporary English dining whilst retaining respect for classical traditions and ingredients. There'll be lots of local cheese, vegetables, fruit and game, when it's in season. I want the flavours to match the presentation of the dishes and both to be memorable." In fact, hotel guests can even enjoy a hunting excursion during the pheasant season in the grounds of Fort Chapard. The grounds will supply much of the game to the restaurant, as well as herbs and vegetables and chefs will use this onsite larder for many of the dishes served in the restaurant.
ABOUT: Fort Chapard is a luxury hotel being renovated in the grounds of a 19-century fortress. The remains of the original fort stand close to the hotel.
All enquiries regarding The Moat restaurant and Fort Chapard should be emailed directly to Reputation 24/7.
###