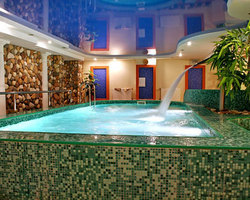 (PRWeb UK) November 11, 2010
Fort Chapard Hotel has made an exclusive announcement to selected media agencies that it will be opening a swimming pool and spa in the latter half of next year. The hotel is currently being renovated and work on the spa will not commence until the main hotel is up and running.
The spa is seen as an extension to the range of amenities that will already be offered by the high-end boutique hotel. With just a limited number of rooms, Fort Chapard will appeal to the luxury end of the market, providing a discreet hideaway for work-weary businesspeople looking for luxury and quality as standard. The swimming pool and spa complex will be constructed in an entirely new building in the expansive grounds of the hotel. It will be an eco-friendly design with solar panels and a wind turbine to create its own power supply. The building will be surrounded by trees and access will be via a candlelit pathway from the main hotel.
The idea is to create a feeling of nature and serenity, and to provide pure escapism for clients. Architect, Daniel Peeting, is acutely aware of the attention to detail that will be required to establish the spa as a destination in its own right. "I have worked closely with the hotel owners to ensure that this design has a cohesion with the main building, whilst also providing a unique setting in which guests can be pampered. Low-level lighting will add to the atmosphere and floor-to-ceiling windows will create a seamless flow of space between the swimming pool and the forest. This is a spa that will adapt to its surroundings."
The spa will be also be available to non-guests with day passes allowing clients to indulge in beauty treatments, swim and use the sauna. There will also be the opportunity to have lunch in the Moat restaurant in the main Fort Chapard Hotel. Guests staying in the hotel throughout 2011 will be given a complimentary treatment of their choice at the spa.
ABOUT: Fort Chapard is a luxury hotel being renovated in the grounds of a 19-century fortress. The remains of the original fort stand close to the hotel.
All enquiries regarding the pool and spa, as well as general information about Fort Chapard, should be emailed directly to Reputation 24/7.
###