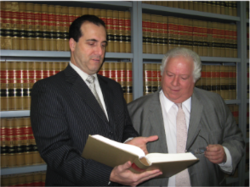 We are excited about our new locations. It allows us to meet the needs of our clients throughout the entire state of Florida
Fort Lauderdale, FL (PRWEB) August 19, 2011
The Neustein Law Group, P.A. announces that it has opened eight new office locations to serve its bankruptcy and foreclosure clients throughout Florida. The firm is headquartered in Miami Beach and the new satellite locations are in Miami, South Miami, Fort Lauderdale, Boca Raton, West Palm Beach, Orlando, Tampa, and Sarasota.
The Neustein Law Group, P.A. has been assisting clients with foreclosure and commercial litigation cases for over 44 years. Charles L. Neustein is a former municipal court judge and has practiced law for 44 years. Frederick A. Neustein has practiced law for 19 years and has several years experience working for banks and overseeing foreclosure cases from the bank's perspective. Nicole Neustein focuses primarily on bankruptcy and is a graduate of Barnard College at Columbia University. Her experience includes working for a federal judge and graduating at the top of her class from the University of Miami School of Law.
"We are excited about our new locations. It allows us to meet the needs of our clients throughout the entire state of Florida," says partner Frederick A. Neustein.
Neustein Law Group, P.A. represents foreclosure and bankruptcy clients in communities throughout Florida, including Miami-Dade County, Broward County, and Palm Beach County.
About Neustein Law Group, P.A.
The firm's primary focus is the cost-effective representation of clients with homes or investment property located in Miami-Dade, Broward, Palm Beach, and throughout the State of Florida. Their attorneys and staff have focused on helping homeowners and investors defend and stop bank foreclosures, home foreclosures, house foreclosures, commercial foreclosures, bankruptcy and complex commercial litigation since 1968.
Your Bank has a Lawyer. You need a lawyer on your side. We Defend Foreclosures. We Defend Home Owners. For more information about the firm, please go to http://www.stopforeclosurelawyer.com/ or call 305-531-2545 or (888) 400-ATTY (2889).
Our Offices:
Neustein Law Group, P.A.
777 Arthur Godfrey Road, Miami Beach, FL 33140
(305) 531-2545  (305) 531-2365 (Fax)
Neustein Law Group, P.A.
201 South Biscayne Blvd, 28th Floor, Miami, FL 33131
(305) 531-2545 (305) 531-2365 (Fax)
Neustein Law Group, P.A.
9100 South Dadeland Blvd, Suite 1500, Miami, FL 33156
(305) 531-2545   (888) 400-ATTY (2889)   (305) 531-2365 (Fax)
Neustein Law Group, P.A.
110 East Broward Blvd, Suite 1700, Ft Lauderdale, FL 33301
(305) 531-2545   (888) 400-ATTY (2889)   (305) 531-2365 (Fax)
Neustein Law Group, P.A.
2255 Glades Road, Suite 324A, Boca Raton, FL
(305) 531-2545   (888) 400-ATTY (2889)   (305) 531-2365 (Fax)
Neustein Law Group, P.A.
777 South Flagler Drive, Suite 800 West, West Palm Beach, FL
(305) 531-2545   (888) 400-ATTY (2889)   (305) 531-2365 (Fax)
Neustein Law Group, P.A.
7380 Sand Lake Road Suite 500 Orlando, Florida 32819
(305) 531-2545   (888) 400-ATTY (2889)   (305) 531-2365 (Fax)
Neustein Law Group, P.A.
Westshore Int'l Plaza #200, 2202 N. West Shore Blvd, Tampa, Florida 33607
(305) 531-2545   (888) 400-ATTY (2889)   (305) 531-2365 (Fax)
Neustein Law Group, P.A.
1990 Main Street Suite 750, Sarasota, Florida 34236
(305) 531-2545   (888) 400-ATTY (2889)   (305) 531-2365 (Fax)
###