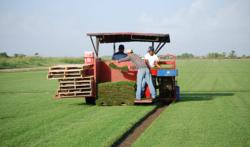 FORT WORTH, TEXAS (PRWEB) May 16, 2013
The Grass Outlet has launched a sod grass calculator on its website to help customers in Fort Worth determine how many pallets of turfgrass they'll need to cover their lawn.
The Fort Worth sod grass company's sod grass calculator determines how much sod grass is necessary to cover a lawn in three steps.
First, users specify the shape of their lawn given six options: square, triangle, parallelogram, trapezoid, circle and combination. Next, the calculator asks users to enter the dimensions of their lawn, with questions tailored to the specific shape of the lawn. Finally, the calculator estimates the yard's square footage and the number of grass pallets needed to cover the lawn, knowing that one pallet of grass will cover 450 square feet of area.
After users determine how many pallets they'll need, they can tell the calculator which variety of grass they would like to purchase. The sod calculator then will calculate the cost of the requested type and number of pallets of grass and give users the option to use the company's online checkout.
During the checkout process, users can choose a date for the grass to be delivered to their lawn, making the sod grass ordering process more convenient for many customers.
About The Grass Outlet
The Grass Outlet is a direct-from-farm sod grass store headquartered in Austin, Texas. The Grass Outlet provides fresh, high-quality grass to homes and businesses in Austin, Dallas, Houston and San Antonio direct from its farms along the Texas Gulf Coast. The store is able to ensure that customers receive the freshest grass available by harvesting grass from the farm on an order basis only. Customers can choose from eight varieties of turfgrass, including two St. Augustine varieties, Density Buffalo, three varieties of Bermuda grass and two types of Zoysia.