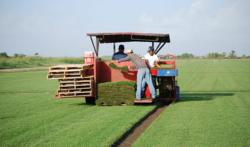 FORT WORTH, TEXAS (PRWEB) May 02, 2013
The Grass Outlet has expanded its marketing of sod grass to the Fort Worth area.
The Fort Worth sod grass company sells eight varieties of grass in the Dallas and Fort Worth areas now, so customers can choose from two varieties of St. Augustine grass, three varieties of Bermuda grass, two varieties of Zoysia and Density Buffalo grass. The grass varieties offered by The Grass Outlet vary by season.
Using The Grass Outlet's website, customers in Fort Worth can determine how many pallets of sod they'll need, read about the different varieties available and even use the site's search function to determine which varieties will work best for their lawn. Customers can specify the mow height and frequency of their desired grass, its drought tolerance, fall color retention, spring green up and shade tolerance to help narrow down their options.
"We're excited to be able to market our grass to the Fort Worth area," said Mike Piwonka, the owner of The Grass Outlet. "We sell multiple grass varieties that are made to thrive in the area around Fort Worth, so we look forward to helping the people of Fort Worth have beautiful lawns."
The Grass Outlet sells grass from family farms along the Texas gulf coast. To read about The Grass Outlet farms, click here.
About The Grass Outlet
The Grass Outlet is a direct-from-farm sod grass store headquartered in Austin, Texas. The Grass Outlet provides fresh, high-quality grass to homes and businesses in Austin, Dallas, Houston and San Antonio direct from its farms along the Texas Gulf Coast. The store is able to ensure that customers receive the freshest grass available by harvesting grass from the farm on an order basis only. Customers can choose from eight varieties of turfgrass, including two St. Augustine varieties, Density Buffalo, three varieties of Bermuda grass and two types of Zoysia.
###