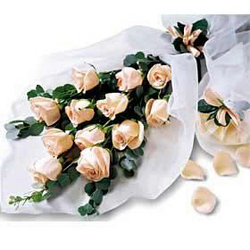 The first 500 people who come to our store at 650 Bedford Euless Rd. in Hurst will receive a dozen roses free of charge
Fort Worth, Texas (PRWEB) September 2, 2009
Bice's Florist is gearing up for an exceptionally busy day next Wednesday, Sept. 9. The Fort Worth area florist will give away 500 dozen roses to celebrate "Good Neighbor Day 2009."
"The first 500 people who come to our store at 650 Bedford Euless Rd. in Hurst will receive a dozen roses free of charge," Bice's president Keith Riewe said. "We ask each recipient to keep one rose and pass the rest on to others - friends, neighbors or complete strangers - to promote a spirit of caring and sharing."
Beyond the giving, there will be other perks for those who come to Bice's to pick up the flowers.

Each person will receive a Lucky Stems game piece guaranteed to be a winner of flowers, a gift item or discount on future purchases.
Throughout the day Bice's will award gift cards at random, worth up to $50, redeemable for any Bice's Florist merchandise.
Visitors to the store can enter a special drawing for Bice's exclusive Fitz and Floyd Christmas collectors' items, one from each of the three years the pieces have been commissioned.
Each visitor also will receive Bice's new catalog of flowers and gift items.
FTD Florists began Good Neighbor Day in 1994 to encourage people to help create a friendlier, more caring world through the gift of flowers. Bice's Florist has been a regular participant and is making this year's event its biggest Good Neighbor Day ever.
"It's pretty incredible to consider some 6,000 people in greater Fort Worth will get a beautiful rose, completely by surprise, to brighten their day next Wednesday," Riewe said. "That's why we're in the flower business in Fort Worth."
About Bice's Florist
Bice's Florist, a landmark in the suburban Fort Worth area since 1974, has been recognized as a Top 100 Florist in the United States for 18 consecutive years. Bice's commitment to the highest standards of quality in product, design, service and presentation deliver enduring value to our customers. For more information, call Bice's toll-free at 800-848-0209, or visit us at http://www.bices.com.
Contact:
Cheri Kirkman
Bice's Florist
817-282-2311
###