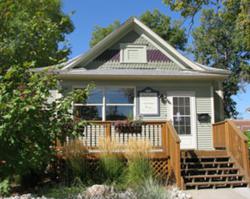 The energy of grief settles in your lungs, and because it is not flowing, stagnation and illness may result.
Fort Collins, CO (PRWEB) September 19, 2011
With all the economic instability and mounting pressures individuals face these days, American College of Traditional Chinese Medicine alumnus and Fort Collins acupuncturist Kristie Steinbock has noticed an increase in one type of question that, asked in one way or another, is essentially: "What is my purpose? Why am I here? Is there a bigger picture that points to some meaning for me?" Steinbock offers advice and assistance to help patients through their discomfort.
"This type of question is a question of transition," says Steinbock. "We ask this question when we are on the verge of change—and regardless of the language, whether it is the soul or the mind, a deep dissatisfaction is welling up within us. It is a sign that we are growing and transforming."
According to Steinbock, personal growth cannot occur in a static or stagnant atmosphere: transformation occurs in periods of transition. She believes that traditional Chinese medicine (TCM), which includes acupuncture, can be used as a pivotal tool during these periods because TCM views and treats the body, mind and spirit a whole. "We only separate these terms for the convenience of language," says Steinbock.
Traditional Chinese medicine focuses on the energy that flows from our environment through our bodies. This energy, called Qi (pronounced chee), is everywhere and is our basic life force. Qi can be nourished. Qi can be drained. Qi can be moved. Our bodies feel better, stronger and more alive when our Qi is flowing evenly throughout our bodies.
When it isn't, distress, pain, restlessness or irritation may result. In periods of transition, says Steinbock, our Qi can become disrupted. For instance, if a person is sailing along nicely in their life and someone dear to them passes away, months can go by when they experience a lack of energy. They feel listless, may not sleep well or rely upon sleep aids to rest. They may even develop a cough or sinus congestion. This is a transitional time when the order of the body's Qi, or energy, has become disrupted.
"The energy of grief settles in your lungs, and because it is not flowing, stagnation and illness may result," says Steinbock. "Acupuncture, with its finely placed thin needles, can assist your body in resuming its own natural, healthy flow of Qi.
"In TCM, organ systems have corresponding feelings associated with them: the lungs hold sadness and grief, the liver holds anger, the spleen holds pensiveness and worry, and the kidneys hold fear."
The seasons also hold organ significance, according to Steinbock. "We are now in autumn—a transitional time for our lungs and large intestine," she says. "We feel the lightness of summer transitioning towards the darkness of winter. We see this in the sun rising later and setting earlier. Fall is a time of discernment, of choosing what we like, what strengthens us. It is a good time to clear out what is not working before we enter the deeper stillness of winter."
More than a quick remedy, acupuncture treatments uncover the client's soul and help them answer the big questions for themselves.
In addition to her Fort Collins acupuncture practice, Steinbock is also a writer. She has just published a children's book titled "Teffie's Travels," which follows a young girl as she travels the world searching for her heart—and what she finds is a big surprise! The book is now available online at Integrity Art Press (http://www.integrityartspress.com).
About the American College of Traditional Chinese Medicine
The American College of Traditional Chinese Medicine (ACTCM) has been at the forefront of educating students in Traditional Chinese Medicine in the Bay Area since its inception in 1980. Their two degree programs—the Master of Science in Traditional Chinese Medicine (MSTCM) and the Doctorate of Acupuncture and Oriental Medicine (DAOM)—provide an exceptional professional education.
ACTCM's community clinics serve as a diverse and demanding training ground for their students, while providing affordable health care services to the community. ACTCM's certificate programs in Tui Na and Shiatsu and its introductory classes for the public offer additional educational opportunities for current ACTCM students, healthcare professionals and the general public.
Bay Area acupuncture treatment, as taught by ACTCM, restores balance and health, and is used for everything from chronic pain to drug dependence. It is also effective for allergy relief, weight loss, pain management and fertility treatment.
During treatment practitioners insert sterile, disposable needles at acupuncture points along the meridians. Because of the thin and pliable needles used, most people feel little to no discomfort. Patients typically leave feeling energized or relaxed with a deep sense of well-being.
For more information about the American College of Traditional Chinese Medicine (ACTCM), call Alissa Cohan at (415) 355-1601 x 12.
About Red Dragon Acupuncture
Kristie Steinbock, M.S., L.Ac. of Red Dragon Acupuncture is a licensed acupuncturist and has practiced in Fort Collins, CO for over 17 years. She has been a leader in bringing the practice of Traditional Chinese Medicine to Northern Colorado by offering acupuncture and a wide range of other Traditional Chinese Medicine modalities.
Red Dragon Acupuncture Clinic, Inc. is located in Old Town Fort Collins in a beautiful "home" environment, which is conducive to contributing to the wellness of everyone who comes in.
For more information about Red Dragon Acupuncture in Fort Collins, Colorado, call (970) 224-2510, or visit the clinic on the web at reddragonacu.com.
###