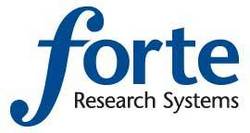 Madison, WI (Vocus) November 11, 2010
Forte Research Systems, a leading developer of clinical research management software, has expanded its operations with the addition of Forte Research Systems India, Pvt., Ltd, a wholly owned subsidiary of Forte Research Systems, Inc.
"A significant amount of the growth that is taking place in the clinical research industry is happening in India. Our desire to have a presence there reflects our own growth, and we believe there is a non-trivial amount of synergistic opportunity there with our expanding product portfolio," said the company's founder, president & CEO, Srini Kalluri.
The new offices are headquartered in Bangalore, India and headed by Shamiq Hussain, who has taken on the role of Director of Operations for the new venture.
To his new role heading the company's Indian operations, Mr. Hussain brings over 20 years of diverse experience across the clinical research and pharmaceutical industries. His past experience includes setting-up, organizing, and operating a new clinical research business as well as a clinical research-related professional organization in India. He has also managed business development initiatives for clinical research organizations and been part of the training and sales & marketing operations of a multinational pharmaceutical organization.
"The clinical research industry in India has matured and is now poised for further growth, underlining the importance of clinical research management software. Thus, I believe that Forte Research Systems has entered the Indian market at the right time and I am confident that, as we assemble a dynamic and informed team in India, we will be able to continue the successful journey that began in the U.S.," said Mr. Hussain.
One of the first activities the new office will undertake is a workshop to introduce Forte Research Systems and their products to the clinical research community in Bangalore.
Founded in 2000 and headquartered in Madison, Wisconsin, Forte Research Systems, Inc. develops clinical and translational research management software. The company's flagship product, the OnCore® system, is the nation's most widely adopted clinical research platform among academic research organizations and cancer centers.
PercipEnz Technologies is now Forte Research Systems. Same company, new name.
###