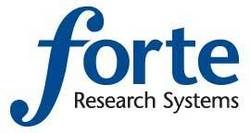 It's something we've been thinking about for some time
Madison, WI (Vocus) September 29, 2010
Ten-year-old software company, PercipEnz Technologies, Inc. has changed its name to Forte Research Systems, Inc.
"It's something we've been thinking about for some time," said the company's founder, president, and CEO, Srini Kalluri. "We've grown rapidly and expect the pace to get even faster. As we offer new products to the broader research community and expand into new geographies, it is all the more important for us to have coherence between the company and product names."
PercipEnz, which came from the combination of two words, percipient and enzyme, was always just a little too hard to say or spell and it was difficult to explain to people hearing it for the first time.
"Forte is easy to say and it fits with our products," said Kalluri.
The company's products and customer community have musically themed names with alternative spellings. OnCore(R) is a software platform for supporting clinical research and Onsemble(R) is the customer community. The company also offers data exchange services through the Crescendo™ Clinical and Translational Research Exchange. The new name, Forte, comes from an Italian musical term that means loud.
Founded in 2000 and headquartered in Madison, Wisconsin, Forte Research Systems develops enterprise-class clinical and translational research management software. The company's flagship product, the OnCore system, is the nation's most widely adopted clinical research platform among academic research organizations and cancer centers.
###