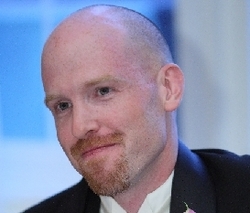 We are pleased to have Ian Hobkirk join our executive team
Mason, OH (PRWEB) June 3, 2008
FORTE, a supply chain consulting and integration firm, is pleased to announce the appointment of Ian Hobkirk to the position of director of supply chain consulting. Hobkirk will play a strategic role in leading FORTE's consulting practice with a focus on helping clients identify and implement supply chain process improvements.
"We are pleased to have Ian Hobkirk join our executive team," says FORTE president Andrew Breckenridge. "His experience and knowledge from working with clients and vendors from across the supply chain spectrum will serve FORTE well as we look to continue our growth and leadership in supply chain consulting and integration."
"In today's softening economy, many companies are not prepared to spend hundreds of thousands of dollars on software or material handling solutions, and want to focus instead on business process improvement", says Ian Hobkirk, director of supply chain consulting for FORTE. "FORTE works with companies that are seeking to optimize their supply chains, with a special focus on process optimization. I look forward to working with FORTE and our clients as we expand and enhance our services in distribution center business process analysis, space utilization studies, transportation management strategy and optimization, supply chain visibility improvement, and supply chain network design."
Before joining FORTE, Hobkirk served as a research director for industry analyst firm The Aberdeen Group, where he successfully and rapidly grew Aberdeen's Supply Chain Execution practice during his tenure, making it one of the top performers in Aberdeen's portfolio of services.
Prior to Aberdeen, Hobkirk was director of supply chain consulting for Beacon Systems, a Boston-area consulting firm, where he helped clients reduce operating costs by implementing best practices in fulfillment operations. Before Beacon, Hobkirk worked for several material handling systems integrators in capacities ranging from engineering to sales and project management.
Hobkirk's areas of expertise include warehouse management, transportation management, and material handling system design. He is well-known in the supply chain industry having published dozens of research papers and lectured at industry forums including the National Conference on Operations and Fulfillment, APICS, the Parcel Shipping and Distribution Forum, ProMat and MHIA. Hobkirk is frequently quoted in publications such as The Journal of Commerce, Logistics Management, Modern Materials Handling, DC Velocity, Global Logistics & Supply Chain Strategies and others.
About FORTE
FORTE helps our clients transform supply chains for competitive advantage. We bring world-class supply chain management expertise and advanced analytic tools to all of our engagements. We work closely with our clients to identify and implement supply chain process, layout and systems improvements that create significant business value. Our supply chain services include; assessment, planning, network optimization, 3PL strategy, distribution facility design/implementation, WMS selection, warehouse systems integration and support services.
For more information, please call 513-478-7818, or visit http://www.forte-industries.com.
Media Contact:
Dan Dyer
Ph: 513-478-7818
###