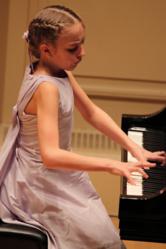 We discover stars and help them shine!
New York, NY (PRWEB) October 02, 2012
Highly anticipated Forte International Music Competition that is expected to attract many talented musicians of different ages from around the world has opened the registration for 2012-2013 season.
Forte International Music Competition is an annual winter event presented by Forte International Music Competition and Festivals nonprofit organization. It gives aspiring musicians, ages 4 and above, an opportunity to compete at Carnegie Hall, one of the most prestigious venues in the world. Competitors also receive valuable feedback from expert judges, who are members of the distinguished faculty at universities in US, as well as internationally acclaimed musicians, and are recognized with certificates, cash prizes and awards, including a Platinum Award and cash prize in the amount of $1,000. In addition, participants form long lasting friendships and learn to better understand, perform, and enjoy music.
Here are some of the honored judges that are expected to join this year:
Gregory Sheppard: Opera singer and professor of music at Columbia University.
George Rothman: Co-founder and conductor of the Riverside Symphony Orchestra. Music director and conductor of Brooklyn College's Conservatory Orchestra and associate professor of music.
Denise Ivanoff: President of the New York State Music Teachers Association (NYSMTA).
The deadline for registration is November 1, 2012, but Early Bird Discount is also available for those participants who register by October 15, 2012. If competitors need more time to apply the late registration is open through November 15, 2012.
The Preliminary Round will take place on December 8 and Semi-Final Round on December 9, 2012 at Ripley-Grier Studios and will culminate at the Final Round at the Weill Recital Hall at Carnegie Hall on February 2, 2013.
About International Music Competition and Festivals, Corp.
Forte International Music Competition and Festivals, Corp. is a nonprofit organization inspired by the power of music and dedicated to the discovery and development of the talented musicians through competitions, festivals, and other performing opportunities.
The organization is comprised of exceptional individuals who share common vision, passion, and determination for success. Together, this outstanding team, hopes to create a unique environment where talented musicians of any nation, whether they play or sing, will be able to come together, share their talent with the world, and have a chance to achieve their dream.
For more information about this event or the organization please visit http://www.ForteMusicArt.org.