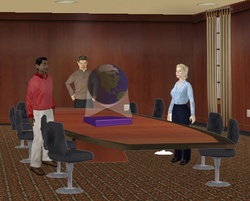 We are honored to enter into a strategic investment and technology advancement agreement with In-Q-Tel that will serve to enhance the already extensive capabilities of our OLIVE(TM) Platform
SAN MATEO, Calif. (PRWEB) September 27, 2007
Following this agreement, Forterra will further develop a set of additional capabilities that can be deployed on Forterra's core OLIVE(TM) (On-Line Interactive Virtual Environment) software platform for the purposes of enhancing OLIVE's utility for collaboration and training applications. OLIVE(TM) will provide a capability for users to leverage collaborative, 3D Internet solutions to accelerate time-to-insight.
"We are honored to enter into a strategic investment and technology advancement agreement with In-Q-Tel that will serve to enhance the already extensive capabilities of our OLIVE(TM) Platform," said David Rolston, CEO for Forterra Systems. "This agreement with In-Q-Tel is testimony to the fact that OLIVE has the potential to deliver high impact, transformational technologies that support the mission of the U.S. Intelligence Community.
The effort to extend the capabilities of Forterra's OLIVE(TM) Platform will include: the ability to import SketchUp models into OLIVE(TM); a network proxy that will enable OLIVE(TM) applications to run seamlessly through a wider range of firewall configurations, a 3-D conferencing and document sharing application; and additional 3-D content including scenery, avatars, buildings and other objects needed to support the new applications. Forterra will also integrate external instant messaging products with OLIVE to provide a common conferencing and document sharing facility for its virtual world users. Through this integration, users will be able to schedule meetings that enable participants to view and annotate documents. The white boarding of ideas will also be possible such that the board can be viewed simultaneously and securely by geographically distributed participants.
"Forterra has developed a technology platform and business model for virtual worlds that we believe is capable of supporting analytic transformation and the critical needs of the U.S. Intelligence Community as well as related applications in the private sector," said Steve Bowsher, Executive Vice President of Investments at In-Q-Tel. "Agreements like this with Forterra represent the best of public and private sector business models, designed to deliver innovative technologies to the U.S. Intelligence Community, linking them to new and emerging technologies in the commercial market and providing strategic incentives for companies like Forterra to develop and enhance technology solutions that benefit the federal government market as well as a broader commercial market."
Forterra's OLIVE Platform is uniquely suited to support both private sector and government customer collaboration needs. Government solutions built on Forterra's OLIVE(TM) Platform will allow users to quickly construct realistic scenarios, modify or augment the environment, conduct training and mission-rehearsal exercises, and review outcomes using integrated After Action Review (AAR). OLIVE's distributed simulation technology makes it an ideal platform for quickly transferring lessons learned between geographically dispersed units in rapidly changing operational conditions and for developing joint, interagency and multinational teams.
About In-Q-Tel
In-Q-Tel is a strategic, not-for-profit investment firm that works to identify, adapt, and deliver innovative technology solutions to support the mission of the U.S. Intelligence Community. Launched by the CIA in 1999 as a private, independent organization, In-Q-Tel's mission is to identify and partner with companies developing cutting-edge technologies that serve the national security interests of the United States. Working from an evolving strategic blueprint defining the Intelligence Community's critical technology needs, In-Q-Tel engages with entrepreneurs, growth companies, researchers, and investors to deliver technologies that provide superior capabilities for the CIA and the larger Intelligence Community. In-Q-Tel concentrates on several broad commercial technology areas, including application software and analytics; communications and infrastructure; embedded systems and power; and bio, chemical, and nanotechnology. To date, In-Q-Tel has engaged with more than 100 companies and delivered more than 140 technology solutions to the Intelligence Community. To learn more about In-Q-Tel, visit http://www.iqt.org.
About Forterra Systems
Forterra Systems is a leader in providing online distributed virtual world technology for the corporate, healthcare, government, and education industries. Forterra's software and services enable organizations to build their own virtual worlds to train, plan, rehearse, and collaborate in ways previously considered impossible or impractical. Using the OLIVE (TM) (On-Line Interactive Virtual Environment) platform and industry standard PC hardware, customers can rapidly generate realistic, collaborative, 3-D Internet solutions that easily scale from single user applications to large scale simulated environments supporting many thousands of concurrent users. http://www.forterrainc.com