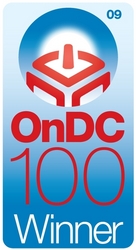 It's no secret that technology and innovation are vital to bringing our country out of economic recession and transforming important sectors like energy and healthcare
Chantilly, Virginia (PRWEB) October 9, 2009
Fortisphere, a Virtual Service Management software company, today announced that it has been named an AlwaysOn OnDC Top 100 Winner. Inclusion in the OnDC 100 signifies major developments in the creation of new business opportunities that contribute to the renewed and continued prosperity of our country. Fortisphere was specially selected by the AlwaysOn editorial team and industry experts spanning the globe based on a set of five criteria: innovation, market potential, commercialization, stakeholder value and media buzz.
Fortisphere and the OnDC Top 100 Companies will be honored at AlwaysOn's OnDC event on October 19th-21st at the Four Seasons Hotel in Washington DC. This two-and-a-half-day executive event features CEO presentations and high-level debates on sectors most impacted by the federal government, including greentech, on-demand computing and IT security, education and the life sciences.
"It's no secret that technology and innovation are vital to bringing our country out of economic recession and transforming important sectors like energy and healthcare," said Tony Perkins, founder and CEO of AlwaysOn. "We congratulate the OnDC 100 for their success in introducing new tools, services and systems to address the nation's top priorities."
The OnDC 100 winners were selected from among hundreds of other technology companies nominated by investors, bankers, journalists and industry insiders. The AlwaysOn editorial team conducted a rigorous three-month selection process to finalize the 2009 list.
Fortisphere's patent-pending, enterprise-class solutions go beyond traditional maintenance tasks to define and manage service delivery for virtualized data centers. Committed to virtual data center heterogeneity, the company offers solutions that scale to support complex diverse environments. Organizations rely on Fortisphere Virtual Service Management solutions to lower administration costs, maximize value and improve service from their virtualized environments.
A full list of all the OnDC Top 100 Winners can be found on the AlwaysOn Web site at
http://alwayson.goingon.com/permalink/post/33638
"We are committed to developing solutions that help our customers get the most out of their virtualized environments and deliver the greatest possible ROI," said Siki Giunta, president and chief executive officer at Fortisphere. "This recognition is a testament to our technological innovation and ability to adapt to the changing needs of our customers."
Fortisphere CEO to Present at AlwaysOn's OnDC
Siki Giunta, president and CEO of Fortisphere will present at the "CEO Showcase" track at AlwaysOn's OnDC event on Tuesday, October 20 at 10:00 a.m. ET. In this session, Giunta will discuss how Fortisphere is leading modern data centers in their successful adoption of virtual service management and evolution to cloud computing.
About Fortisphere
Fortisphere is a Virtual Service Management software company. We arm our customers with the management solutions they need to confidently exploit virtualization to the delight of business users. Our flagship product, Virtual Essentials™ Service Manager™, enables administrators, application owners and IT executives to inventory, visualize and manage virtualized resources from an intuitive, role-based console. As a result, they are able to lower IT costs, improve service, and get the best possible value from their multi-platform virtualized environments, a critical step in the evolution to cloud computing.
Fortisphere is a privately-held company, headquartered in Chantilly, VA. More information about Fortisphere can be found at http://www.fortisphere.com.
About AlwaysOn
AlwaysOn ignited the open-media revolution in early 2003 by being the first media brand to launch a global blog network. In 2004, AlwaysOn continued to lead the media industry in innovation by introducing a social network where members can connect and engage. AlwaysOn is also revolutionizing the media business by applying its open-media principles to its executive event series (Summit at Stanford, OnMedia, OnHollywood, OnDC, GoingGreen East and West, Venture Summit East and West) and quarterly print "blogozine" by empowering its members to post and share their ideas and meet each other online. As our loyal readers know, AlwaysOn is committed to the free-market, merit-driven approach to reporting and event programming. No other media brand has dared to create such open interaction with its readers and event participants.
###