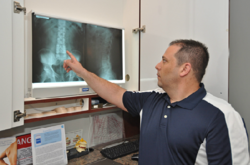 Same day appointments with $59 complete exam and x-ray is offered at Ft Lauderdale Chiropractic (954) 399-6945.
Fort Lauderdale, Fl (PRWEB) July 29, 2012
One of the top Fort Lauderdale chiropractor clinics is now offering same day appointments with a $59 new patient special for starting treatment. Fort Lauderdale Chiropractic offers over a dozen nonsurgical pain management treatments including expertise in auto accident management. Individuals should call (954) 399-6945 for scheduling.
The new patient special includes a full consultation, exam, x-rays and the first day of treatment. The package is worth over $300, so at $59 it's an 80% discount off regular price. It can be difficult to find a doctor offering same day treatment for one's back or neck pain. Dr. Neilen serves all of Fort Lauderdale with over a dozen options for pain relief. It has been shown that obtaining treatment soon after pain develops gives patients the best chance of avoiding a chronic problem from occurring.
Options available for pain management at Fort Lauderdale Chiropractic include physical therapy, chiropractor Fort Lauderdale manipulations, massage, spinal decompression therapy, acupuncture, laser therapy, and much more.
The clinic also accepts a considerable amount of health insurance plans, such as BCBS, Aetna, United Health, Medicare, Cigna, Worker's Compensation, and some Medicaid. Along with accepting these plans, Fort Lauderdale Chiropractic maintains expertise in auto accidents, working with patients under Personal Injury Protection. In most of these cases, no out of pocket costs are incurred.
"It really is a difficult time when dealing with severe neck or back pain, and possibly the emotional and physical trauma from an auto accident. With all the treatment options and expertise available with Fort Lauderdale Chiropractor Jess Neilen, DC, outcomes for pain management are exceptional. The clinic accepts a ton of insurances, and the car accident chiropractor is exceptional" said Florida Pain Network CEO David Greene.
When having neck/back pain or sciatica, RSD, fibromyalgia or arthritis pain, individuals should call (954) 399-6945 to make appointments and to take advantage of the new patient special.