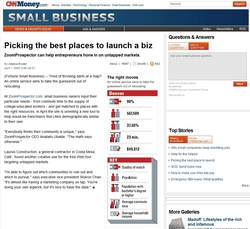 ZoomProspector.com is a valuable resource for companies that are franchising because it's easy to find new business markets that match the community characteristics of the places the company is already successful
New York, NY (PRWEB) April 2, 2009
Fortune Small Business announced ZoomProspector's newest business location search feature in the print edition of its April issue. The two-page spread, entitled Picking the best places to launch a biz demonstrates how businesses can use ZoomProspector's new "Find Similar Communities" search option to match a familiar city to cities that have similar demographic and geographic characteristics.
"Small businesses often know what characteristics they like about their city, so we built this new tool to allow them to search for new places to expand in the USA that are a close match to places that they are already successful," said Anatalio Ubalde, Co-CEO and Co-Founder of ZoomProspector.com. "Fortune Small Business Magazine is a leading publication for small businesses worldwide, so we're pleased that the tremendous value ZoomProspector offers to small business owners will reach their readers."
Quoted in the article is Sharon Chan, Executive Vice President of Laurus Construction, "I'm able to figure out which communities to rule out and which to pursue. It's almost like having a marketing company. You're doing your own legwork, but it's nice to have the data."
"ZoomProspector.com is a valuable resource for companies that are franchising because it's easy to find new business markets that match the community characteristics of the places the company is already successful," said Ubalde.
The "Find Similar Communities" tool enables businesses to select which aspects of the community make it a great place to do business. The more importance given to a particular variable, like household income, the more emphasis ZoomProspector.com places on communities with similar income levels. Businesses can choose to run the search for over 20 variables. High-end retailers may place more importance on household income and consumer expenditures. Technology startups may place more value on education levels and venture capital investments. ZoomProspector.com returns a ranked list of communities that best match the reference community on the characteristics that matter most to the business.
With demographic and geographic data on every city in the United States, ZoomProspector is a growing source of data for businesses, individuals and the media. ZoomProspector.com allows companies to find the community that best matches its workforce needs, target customer base and infrastructure requirements, among other requirements. Much of ZoomProspector's data is viewable on the site's integrated and interactive online maps, and visitors can quickly do national, county and city searches through a few clicks of the mouse. ZoomProspector is a free to use service, and was recently named as one of the Top 10 Websites of 2009 by Planetizen.
GIS Planning Inc., creator of ZoomProspector.com , is on the Inc. 5000 list of the fastest growing private companies in the U.S., with more than 180 economic development organization clients, and is an exclusive partner of the International Economic Development Council (IEDC), the main worldwide economic development membership organization. In addition to Fortune Small Business, GIS Planning & ZoomProspector.com have been covered in over 100 leading news publications, including The Wall Street Journal, Forbes, Inc., BusinessWeek, The Washington Post, MSNBC, The Los Angeles Times, Entrepreneur Magazine, CFO Magazine, The San Francisco Chronicle, CNET, The Boston Globe, and The Associated Press.
###