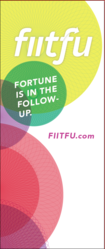 Our goal is to showcase how those in Network Marketing make a difference ... in the well-being of our families and communities.
Burnaby British Columbia Canada (PRWEB) October 17, 2011
Starting a small business and running one successfully is a big challenge but can have tremendous rewards. This weeks is the perfect opportuntiy to celebrate those that have taken the risk. As Jean-René Halde, BDC President and Chief Executive Officer states "in business, innovation does not depend on intuition, but on courageous strategic decisions made by ambitious entrepreneurs."
Fiitfu CRM Solutions has just launched the contest "Live the Life you have Imagined" in celebration of Small Business Week with a particular focus on those working in the Network Marketing segment of small business. "This Contest is open to anyone around the world that would like to get involved" says CEO Mary-Jane Mehlenbacher "our goal is to showcase how those in Network Marketing are not only making a difference in our economy but as well in the well-being of their life, their family's lives and the lives of those in their community."
The Direct selling industry, which includes network marketing, represents an important and dynamic segment of the Canadian economy. Currently 1.3 million Canadians are associated with the industry and according to the Direct Selling Association(DSA) Canadian MLM co.'s contributed $1.36 BILLION to our Canadian National Income last year. In America the numbers are estimated at 15.2 MILLION people involved in Direct Sales as sited by directselling411.com. U.S. sales totaled $32.18 billion in 2006. Worldwide there are estimated over 59 million people independent distributors with world-wide sales topping $109 billion.
But more than sales there is general self-improvement theme that revolves around many of the Direct Sales companies, go to any conference that these companies may be having and notice many of the topics revolve around self-development with world renowned speakers and trainers being shipped into the conferences to share they experience and secrets to success.
"Many people still have a pre-conceived notion of what Network Marketing is about, they envision Pyramid Schemes" quotes Mary-Jane "I saw that every day I grew my network marketing business. Our goal at FIITFU is not only to help the end user become more successful at network marketing, but to as well demolish this tarnished view of Direct Sales. I think this contest is a good addition to help!"
Contest details can be found on the FIITFU's Facebook pagehttp://www.facebook.com/fiitfu . A $2000 Valued Business Pack including graphic designing, coaching, free memberships to Fiitfu and more are up for grabs.
About us: Fiitfu CRM is a web based customer data base management system designed for network marketers by network marketers. A tool designed for those in network marketing to act as a buddy or accountability partner to ensure that you follow up and become more successful. Our site is welcoming, easy to work through and effective in ensuring you don't let anyone fall through the cracks. Try it today with our free trial.
###