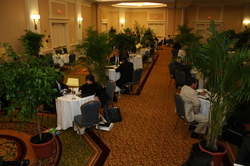 Sarasota, FL (PRWEB) July 24, 2009
When 98% of visitors to a 'Forum' claim it is better way to meet prospective suppliers than going to a trade show, and 95% of vendors say it is a better way to source buyers of their services than a normal exhibition, then you have to figure this new "Corporate Speed Dating" or "Reverse Exhibition" Event format (both descriptions help explain to some degree what it's all about) is worth investigating.
Forum Networking Events, based in Sarasota Florida, but with it's HQ in the UK has been introducing for the last two years US businesses in Facilities Management, Security, Education, Senior Healthcare and Hospitals to it's 'better way of doing business".
Their pitch is simple: Trade exhibitions are expensive and time consuming for both exhibitor and visitor, the former frequently fail to connect with the top buyers they want to meet-and from the visitors perspective, it is tiring, crowded and hardly conducive to sitting down and quietly discussing their requirements with a prospective vendor.
This new concept developed by Forum Networking Events, turns this idea back to front: It puts the buyers seated at meeting tables and the vendors come to them. But the really clever part happens before they even get to meet.
Prior to the Forum vendors receive full details on the buyer's interests, requirements, budget and future projects. At the same time the buyers receive full profiles from each of the attending vendors. Each submits their requests of who they want to meet, and from that the organizers, via their own special software program, creates an itinerary of 30 minute meetings.
These meetings are based on each party requesting to meet the other-indeed a form of "Corporate Speed Dating".
FNE's CEO, Paul Rowney, who founded the UK operation 13 years ago, says this type of event is a 'salesperson's dream', with vendors getting up to 20 or more appointments with qualified buyers under one roof in just one or two days. With travel costs as they are, this has to be a better way to spend a marketing budget? For the corporate buyer it means they get to see a range of vendors of their choice compacted into a short period of time"
The next two Forums take place in Chicago on Sept 28/29th, they cover Educational Facilities and Senior Healthcare Facilities. For more information contact 941 925 7585. FNE are a 'voicemail free zone' from 8.30-4.30 (EST)
# # #