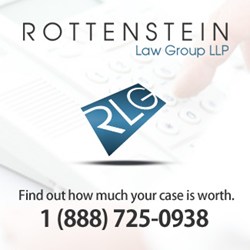 (PRWEB) June 04, 2013
An Italian study has found that the use of the bone drug Fosamax by young patients with low bone density and cystic fibrosis can help with bone quality. The Rottenstein Law Group LLP, which maintains a Fosamax lawsuit information website at http://www.rotlaw.com/fosamax-femur-fractures/, acknowledges the study's results but notes that other studies show the use of Fosamax can also lead to serious side effects such as femur fractures.
The study showed that young patients with cystic fibrosis who took Fosamax saw their bone density increase, according to a June 1 MedPage Today article.* However, a Feb 2011 article in The Journal of the American Medical Association** was among the studies that have connected bisphosphonates such as Fosamax to an increased risk of femur fractures in those who use the drug because of suppressed "bone remodeling."
"We field calls daily from people who have taken Fosamax and suffered from femur fractures," said Rochelle Rottenstein, principal of the Rottenstein Law Group LLP. "The cystic fibrosis study focuses on one group of patients, but the femur fracture studies have shown that other groups are at risk of fractures and other serious side effects. These have the potential to be very important pieces of evidence in court."
New Jersey-based Merck faces more than 3,000 femur fracture lawsuits (in addition to more than 1,200 lawsuits over jawbone death claims), according to an April 29 Bloomberg article.*** Nationwide Fosamax lawsuits were categorized into two different federal pretrial case consolidations for efficiency purposes. Cases involving alleged femur fractures are handled in the U.S. District Court for the District of New Jersey (MDL-2243). Lawsuits related to Fosamax's alleged jaw death side effects are being handled in the U.S. District Court for the Southern District of New York (MDL-1789).
Fosamax, its generic equivalent and other similar bisphosphonate drugs are prescribed to treat osteoporosis. In 2010, according to Bloomberg, a study published in the Journal of Bone and Mineral Research found that the drug, approved in 1995, could be linked to an increase in femur fractures.
The Rottenstein Law Group LLP encourages people to visit this page to download a free informational brochure on the drug's side effects and how to file a lawsuit.
*medpagetoday.com/Endocrinology/Osteoporosis/39537?xid=nl_mpt_DHE_2013-06-03&utm_content=&utm_medium=email&utm_campaign=DailyHeadlines&utm_source=WC&eun=g635710d0r&userid=635710&email=janine@rotlaw.com&mu_id=5756579
**jama.jamanetwork.com/article.aspx?articleid=645797
***bloomberg.com/news/2013-04-29/merck-says-jury-rules-in-its-favor-in-fosamax-trial.html
For the latest news on defective medications and medical devices and related lawsuits, visit the Rottenstein Law Group LLP's Injury Lawyer Newswire at injurylawyernewswire.com. Readers can subscribe to the news site's stories and videos to stay on top of personal injury news.
About THE ROTTENSTEIN LAW GROUP LLP
The Rottenstein Law Group LLP is a New York-based firm that represents clients nationwide in mass tort actions. The firm was founded by Rochelle Rottenstein, who has more than two decades of experience as a lawyer, to represent clients hurt by defective medical devices and medications. (Attorney advertising. Prior results do not guarantee a similar outcome.)
Contact:
The Rottenstein Law Group LLP
Rochelle Rottenstein, Esq.
321 W. 44th Street
# 804
New York NY 10036
(212) 933-9500 (office phone)
(212) 933-9980 (facsimile)
rochelle (at) rotlaw (dot) com
###