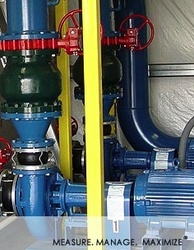 Again and again, I come across plant operators who say, 'Once I get over this next big change, then we can take a look at where we are.' But the reality is, change is the only constant in the industry today
Dallas (Vocus) December 15, 2009
With power plant operators facing a rapidly changing market and regulatory environment, Solomon Associates, the leading performance improvement company for the global energy industry, today announced that it has embarked on its 2010 Power Comparative Performance Analysis (CPA) Study to help clients identify performance trends for themselves and their peers in the United States and worldwide, and to use this data to better prepare for the future.
"Again and again, I come across plant operators who say, 'Once I get over this next big change, then we can take a look at where we are.' But the reality is, change is the only constant in the industry today," said Ed Platt, vice president of Solomon Associates' Power Group. "Strategic success lies in the ability to step back, look at the big picture, and adapt to those constant changes rapidly. In order to do that, you need to know where your operations and assets stand today and where your limited resources are best allocated. This is what the Power CPA Study helps you accomplish."
For U.S. power plants, one timely benefit of the Power CPA Study is to help plant operators prepare for a carbon-constrained market should cap-and-trade legislation take effect in the United States as it has in Europe, Platt said. Solomon Associates is the leading performance benchmarking company for European power generation facilities.
"While there are obvious differences between the U.S. and European markets, certain performance trends -- such as the abrupt changes in utilization among European plants since carbon trading began there in 2005 -- can be expected to be repeated in the U.S. under a cap-and-trade regime," Platt said. "We've seen what happens under carbon trading in Europe, as well as the changes that are necessary to keep costs in line. The Power CPA Study keeps participants ahead of the curve on this kind of change."
In addition to such topical insights, the Power CPA Study offers a more thorough approach to benchmarking than any other performance analysis tool currently on the market. Unique features of the study include:

Through the utilization of proprietary peer data, the Power CPA Study delivers the detailed comparative analysis necessary to improve performance at the unit level. Thoroughly reviewed by former power plant managers with an average of more than 30 years of experience, Solomon Associates ensures that the data is "real" and can be used as a basis for action.
Solomon Associates guides participants every step of the way, from data collection to a comprehensive analysis across a spectrum of key performance indicators in the categories of maintenance and reliability, personnel, fuel conversion efficiency, and expenditures.
The Power CPA Study addresses the nuances of specific technologies, including conventional steam, CCGTs, and cogeneration. The study encompasses all types of coal, long-term service agreements, life extensions, steam reliability, etc. For those who own multiple types, Solomon Associates' proprietary techniques normalize differences, allowing study participants to place dissimilar units on the same spending curve.
"The Power CPA Study encompasses all types of fossil-fired power generation facilities, providing not just a report card but a roadmap for making better decisions," Platt said. "We help clients to evaluate the effectiveness of their maintenance programs, to determine whether they are underfunding their assets, and to balance the commercial and technical tradeoffs of power plant operations."
Interested companies may learn more about Solomon Associates' Power CPA Study by visiting solomononline.com/power or by contacting Ed Platt at 972-739-1757 or ed.platt (at) solomononline.com.
About Solomon Associates
Based in Dallas, HSB Solomon Associates LLC is the world's leading performance improvement company for energy companies seeking to identify and close gaps in operational performance. Combining proven, patented methodologies with objective data analysis, and led by a team steeped in hands-on operational experience, Solomon Associates consistently helps clients with energy-intensive assets achieve greater efficiencies, enhanced reliability, and improved margins. Solomon Associates is part of HSB Group, Inc. To learn more about Solomon Associates, visit http://www.solomononline.com .
###