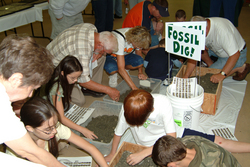 October is a great time to hold a Fossil Fair. The weather is great and Halloween makes everyone think of skeletons and old bones
Myrtle Beach, SC (Vocus) October 8, 2008
Ocean Lakes Family Campground is hosting the 25th Annual South Carolina Fossil Fair presented by the South Carolina Fossil Association on Saturday, October 25, 2008 from 9 AM to 3 PM in the Recreation Building. The Fossil Fair is a free, family fun event open to the public. Experts from the Smithsonian Institution's National Museum of Natural History will be at Ocean Lakes for free fossil identification. Museum Specialists from the Department of Paleobiology include Robert W. Purdy, Museum Specialist, specializes in Fossil Fish; David J. Bohaska, Museum Specialist, specializes in Fossil Whales; Frederick V. Grady, Museum Specialist, specializes in Pleistocene Mammals; and Erich Fitzgerald, on Post Doctoral Fellowship with the Smithsonian, specializes in Fossil Whales. The Fair is a great opportunity to speak with experts from the Smithsonian, collectors, and to learn about this educational hobby and the history of the Southeast. "October is a great time to hold a Fossil Fair. The weather is great and Halloween makes everyone think of skeletons and old bones," comments Barb Krumm, Marketing Director for Ocean Lakes. "It's proved to be a great resource for science projects, home schoolers, and scout troops."
Fossil collections will be on display by members of the Myrtle Beach Fossil Club and regional collectors. The displays feature fossils such as whale bones, sand dollars, horse teeth, shark teeth, mastodon teeth and other fossils from the Southeast. There will be shell collections on display at Ocean Lakes Nature Center Discovery Lab. Tour the Nature Center with Ocean Lakes Curator, Leonard Raker, to see more than 10,000 shells and fossils.
The Fossil Fair includes several hands-on activities for kids of all ages. Participants can learn how to recover fossils from the field with Smithsonian experts at our "mock dig site" on Ocean Lakes' beachfront at 11 AM and 2 PM (weather permitting). Visitors will have the opportunity to hunt for shark teeth in material from PCS Phosphate Mine from Aurora, NC. Then they can create their own shark's tooth necklace with beads and materials supplied by Ocean Lakes and PCS Phosphate Mine.
Collectors interested in displaying at this year's show please contact Kris Ziegler or Barb Krumm at (843) 828-4833 or email: info @ oceanlakes.com. Admission is free and open to the public. Call Ocean Lakes for reservations and to reserve a campsite by dialing 1-800-722-1451, and no need for a hotel, rent one of our 300 rental houses, dial 1-800-845-2229. Ocean Lakes Family Campground's Recreation Building is located at 6001 South Kings Hwy, Myrtle Beach, SC 29575 (only 160 feet from the Atlantic Ocean).
MEDIA CONTACT: Barb Krumm, Director of Marketing and Public Relations (Ocean Lakes), please call (843) 828-4829 or (843) 457-0601 cell.
# # #