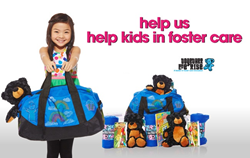 Together We Rise has been working to improve the foster care experience for children in our community and many others for years, and they've earned the support of all the families in the Arlington
Arlington, TX (PRWEB) April 13, 2016
The Holguin Agency, a Texas-based insurance firm that serves the Arlington area and other nearby regions, is joining forces with local non-profit organization Together We Rise in a charity event intended to raise funds in support of the Sweet Bag program for children in foster care.
Together We Rise is working to improve outcomes and experiences for tens of thousands of children in foster care around the country. While most children exiting foster care are given trash bags to carry their belongings, the Sweet Bag program provides these children with special duffel bags that are filled with blankets, teddy bears, hygiene kits, and more.
"Together We Rise has been working to improve the foster care experience for children in our community and many others for years, and they've earned the support of all the families in the Arlington," says Yvette Holguin, founder and director of the Holguin Agency.
The Holguin Agency is working to promote the Together We Rise charity drive among local families and business leaders via social media and targeted email announcements. As well, the Holguin Agency plans to feature the charity event in the next release of "Our Hometown," a monthly Arlington-area magazine produced by the Holguin team: http://www.holguinagency.com/Our-Hometown-Magazine_39.
Together We Rise is only the latest of many charities supported by the Holguin Agency over recent months. As part of a permanent community enrichment program, the firm plans to find and work with more local area charities and non-profits at the rate of one every sixty days.
Readers who want to join the Holguin Agency in their support of the Together We Rise organization during this charity event are asked to visit the firm's website and make a personal contribution from this page: http://www.holguinagency.com/Sweet-Cases-For-Foster-Children_23_community_cause. Readers who want to research the other charities and causes supported by the Holguin Agency are invited to bookmark the firm's Community Causes list here: http://www.holguinagency.com/community-cause.
About The Holguin Agency
Yvette Holguin and her sister Sonia Holguin Castro have worked with Allstate for over 25 years, combined. During that time they have learned what makes and keeps their customers happy, and established their agency's focus on providing them with the most courteous and exceptional service possible. It is their priority to function as their trusted advisor, properly covering their assets and offering expert advice regarding their finances, automobile, home, business and anything else that is of value to them. To contact a specialist at The Holguin Agency, call (817) 609-8051.